Caribbean Fish Curry – Colombo de Pêche à la Claire-Marie Dubois
Colombo de Pêche Recipe
Prep Time:
40 Minutes
Prep Time:
45 Minutes
Total time:
1 Hour
25 Minutes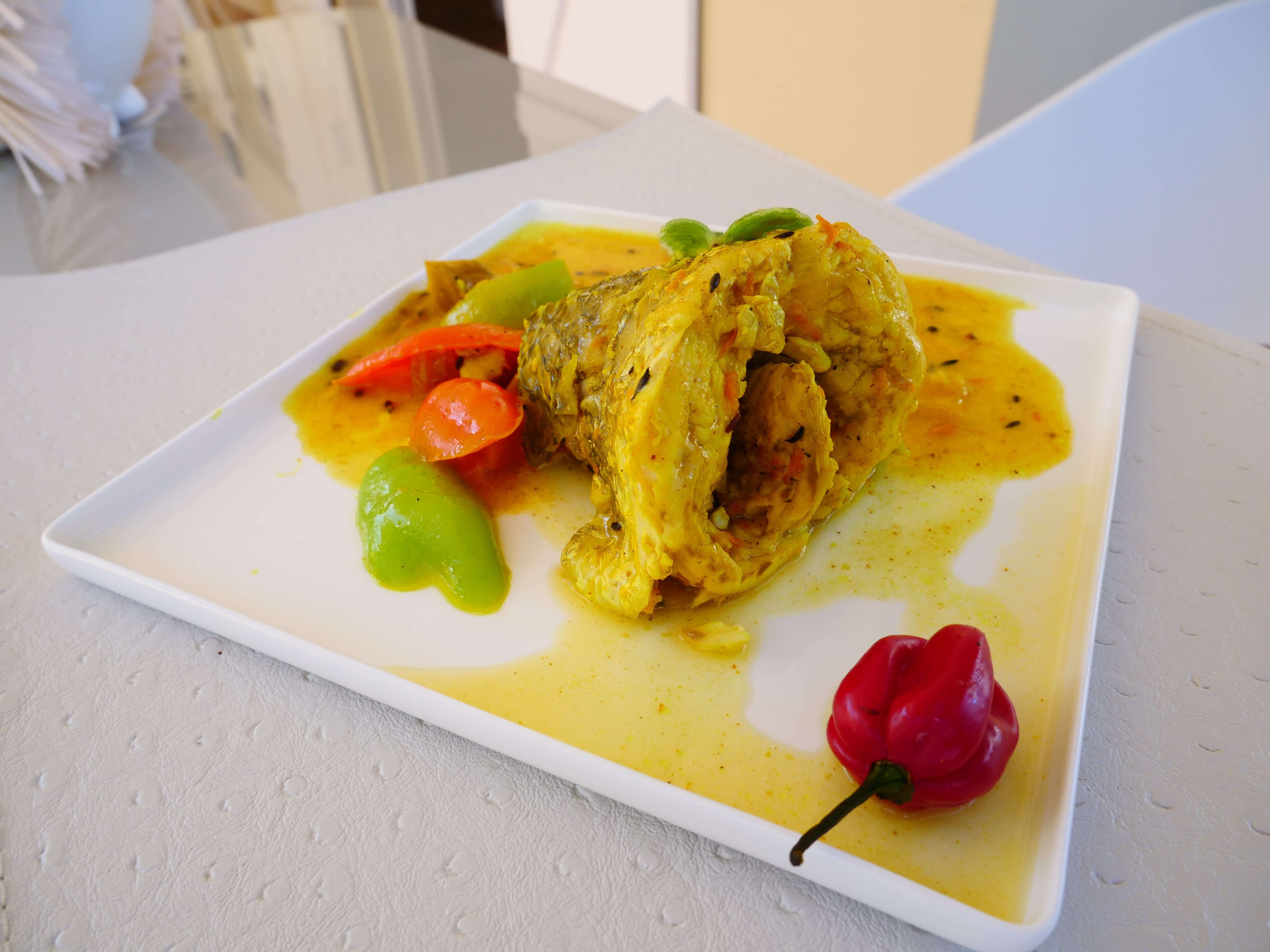 Ingredients
Marinade
flesh of 2 lemons
juice of 2 limes
2 pieces fresh turmeric (shredded) or 1 1/2 tbsp turmeric powder
3 cm of fresh ginger (shredded)
5 big garlic cloves (shredded)
salt and pepper
a bit of coconut or other vegetable oil
Fish Stock
rinsed fish trimmings
bouquet garni: some branches of thyme, parsley, spring onions (or chives) and 1-2 (Caribbean) bay leaves
1/2 chopped onion
1/2 chopped carrot
1 garlic clove
15 g peppercorn
75 ml rum
enough water to just cover the fish
coconut oil or other vegetable oil for frying
Colombo
mix of dried spices (each 10 g) -> mustard, coriander, fenugreek, fennel and cumin seeds, black peppercorn
35 g fresh turmeric (shredded)
3 garlic cloves (chopped)
35 g fresh ginger (shredded)
4 chopped vegetarian peppers (small ones)
2 whole fish (or 4 fish filets) e.g. seabass
400 g root vegetables (eg. sweet potatoes or pumpkin)
1 1/2 chopped onions
1 hot chilli (if you like)
salt and pepper
coconut or other vegetable oil
Instructions
1.
First, get your fish and clean/dry it well. Cut out the fish filets and keep the trimmings for the stock. Remove possible bones.*
2.
Marinate the fish: Put the filets in an oven dish and sprinkle some salt and pepper on top. Spread the turmeric, garlic and ginger evenly on the flesh side and top of with the lemon strips and the juice. Let sit for about an hour.
3.
Prepare the stock: Fry the onion, garlic and carrots in a pot without browning. Add black peppercorns and sauté lightly. Add the fish trimmings and let cook for 2 minutes before deglazing with the rum.
4.
After 5 minutes add enough water so that the fish is just covered as well as the bouquet garni. Let cook on low flame for 30 minutes.
5.
Roll up the fish fillets up and tie them with twine or pierce them with a wooden skewer. Remove the foam from the fish stock and passe through a sieve.
6.
For the Colombo sauce: Take a large and deep pan and brown the dried spices. Add some oil, as well as the garlic, ginger and turmeric. Fry of the vegetarian pepper and the onions in the mixture before adding 500-700 ml of the fish stock to the pan. Let simmer swiftly and add your desired chopped vegetables, season with salt and pepper.
7.
Let cook until almost done and add the fish roll-ups to the lightly simmering sauce (and the chili). Let simmer for 7 minutes.**
8.
Serve the fish and the delicious sauce with some rice. Enjoy!
Print
*You can also get the filets from the fish counter and ask for extra trimmings.
**If you want to thicken the sauce add a bit of cornstarch or flour diluted with water into the sauce and bring to a quick boil. This step usually isn't necessary if you used starchy root vegetables.