KREMŠNITA – Croatian custard cream pie
Croatian Custard Cream Pie Recipe (Kremšnita)
Prep Time:
20 Minutes
Prep Time:
20 Minutes
Total time:
40 Minutes
Servings:
10-12 slices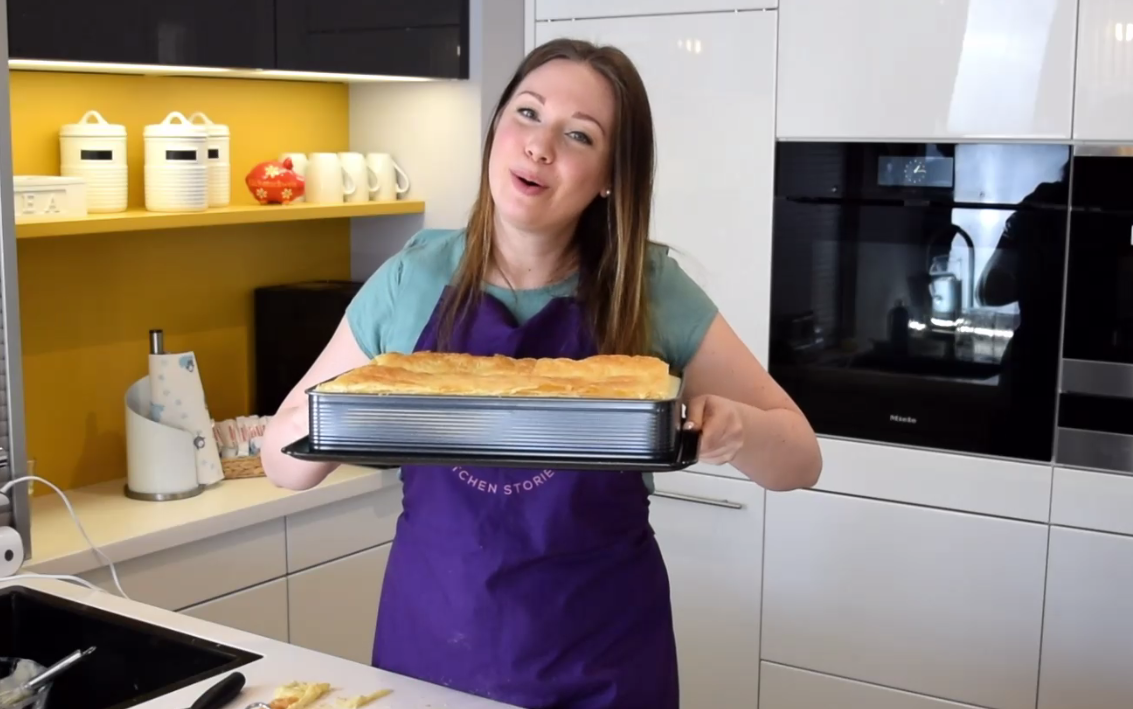 Ingredients
300 g flour
300 g sugar
10 eggs (10 egg yolks and egg whites)
3 pouches of vanilla sugar, or 3 tbsp vanilla extract
200 ml + 1.2 l milk
500 ml water
200 g icing sugar
Instructions
1.
Mix the sugar, the vanilla sugar and the 10 egg yolks until fluffy and light in colour (keep the egg whites for later). Stirring vigorously, add the flour and the 200 ml milk.
2.
In a large pot, bring milk and water to a boil. Add the first mixture. Cook gently over low heat for approximately 10 minutes, stirring constantly to prevent sticking and burning.
3.
The custard must thicken to the consistency of a regular custard. Set aside and let cool off completely.
4.
While the custard is cooling down, preheat the oven to 200°C and roll out the puff pastry dough into two sheets to fit inside a lasagna dish. The top dough shall be marked with a knife the size of each individual slice so that you can cut them easier after baking (see video).
5.
Using a fork, poke holes to ensure the dough rises evenly. Place the two sheets side by side on a greased baking tray. Bake at 200°C until golden brown (approx. 10 minutes).
6.
Remove from the oven and let cool at room temperature. In a separate bowl, beat the egg whites, slowly adding the icing sugar until stiff peaks form.
7.
Fold the egg white mixture into the custard (do not stir). Put one sheet of puff pastry on the bottom of the lasagna dish. Pour the custard and cover with the other sheet of puff pastry.
8.
Let cool at room temperature, then refrigerate for at least three to four hours before serving (best overnight). Cut into twelve portions and sprinkle with some more icing sugar! Enjoy!
Print
If you watch the video: Please note that I cut the water in half in this recipe to avoid the problem that occurred when shooting the video.