Mauritian Mutter Paneer Curry – Pea Curry with homemade cheese
Mutter Paneer Recipe
Prep Time:
30 Minutes
Prep Time:
40 Minutes
Total time:
1 Hour
10 Minutes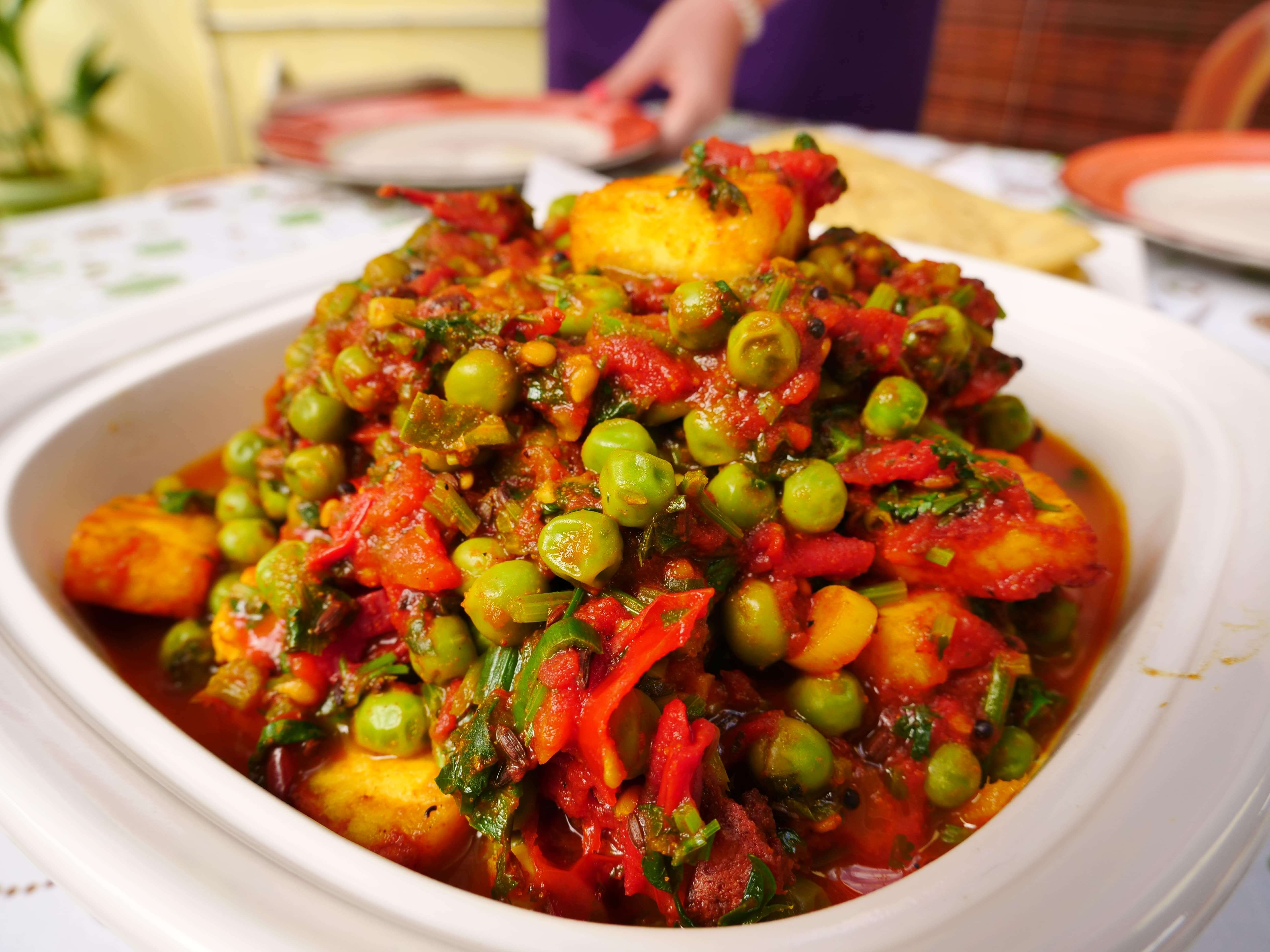 Ingredients
Paneer
2 l water
500 g milk powder OR 2 l fresh milk (non-pasteurised)
2-3 lemons (fresh juice)
Mutter Paneer
5 medium spicy green chillies
some leftover cheese water (whey)
250 g tomatoes
1 tbsp fresh ginger
1 tsp cumin seeds
1 tsp brown mustard seeds
1 tsp masala (e.g. garam masala)
1 tbsp turmeric powder
250 g peas
1 handful fresh mint leaves
3 handful fresh coriander
1 handful flat parsley
1 leek
400 g paneer
salt and pepper
Instructions
1.
To make the paneer: If you use milk powder - heat up the water until warm and then stir in the milk powder. Bring mixture to a boil. If you use fresh milk - bring the milk to a boil.
2.
When it's boiling, add in the lemon juice step by step until curds are forming. Let it simmer for 3 minutes while adding all the lemon juice.
3.
Turn off the heat and strain the mix through a cheesecloth or kitchen towel. Rinse the cheese with some water before pressing out all the liquid.
4.
Form it into a bowl or whatever shape you like. Keep in the fridge for at least 1-2 hrs or overnight.
5.
When the cheese is solidified, you can cut it into bite-size pieces before deep frying it in some vegetable or coconut oil until golden brown. Now you can add them later into the curry.
6.
How to make the curry: Halve the chillies and cut the ginger into fine slices. Dice the tomatoes finely into small pieces. Mince the herbs and cut the leek into small slices.
7.
Heat up some vegetable or coconut oil in a pan and add the mustard seeds. Cover with a lid. When they start to pop, add the cumin and stir well.
8.
When both are browned, you can add the ginger, chillis and coriander stems. Cook for 1-2 minutes. While stirring constantly, add the tomatoes and the cheese whey to the pan and let it simmer until a nice sauce has formed (approx. 7-10 minutes).
9.
Season with salt and pepper to taste and throw in the majority of the herbs (leave some coriander to add later) as well as the frozen peas. Stir in the condiments and let simmer for 2-3 minutes.
10.
Now you can add the paneer to the curry and reheat it in the sauce. Turn off the heat and stir in the rest of the coriander. Enjoy with some roti or rice!
Print