Kadai Egg – egg and green bell pepper curry
Green Bell Pepper Curry Recipe with Eggs
Prep Time:
20 Minutes
Prep Time:
30 Minutes
Total time:
50 Minutes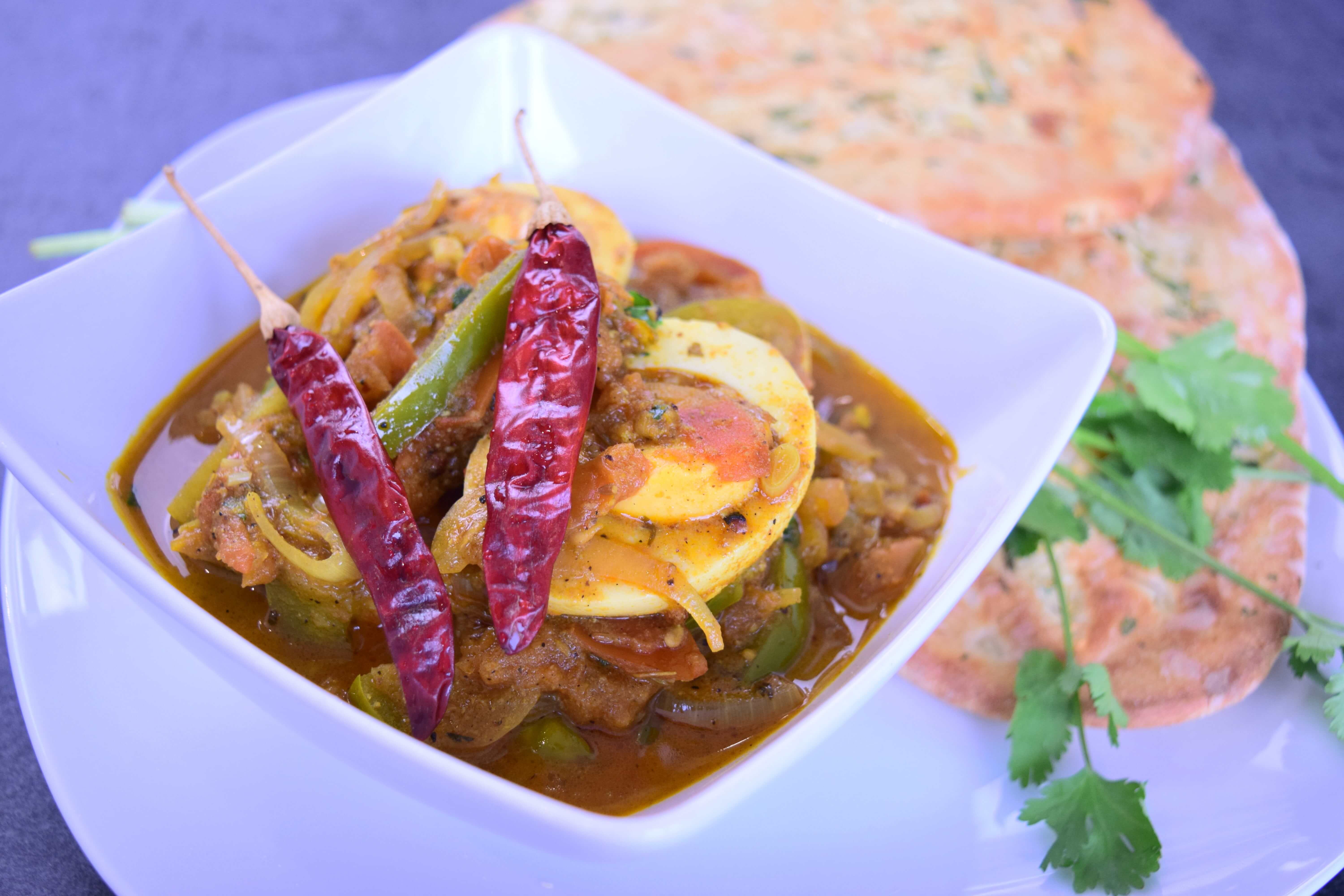 Ingredients
Kadai Masala
3 tbsp coriander seeds
1 tbsp black peppercorns
1 tbsp fennel seeds
1 tbsp cumin seeds
5-6 Kashmiri chillies
Curry
3 onions
3 large tomatoes
1 green bell pepper
5 eggs
3 green chillies
1 tsp fenugreek leaves
1 tbsp garam masala
1 tsp chilli powder
1/2 tsp turmeric powder
2 tbsp coriander powder
1 tbsp garlic paste
1 tbsp ginger paste
200 ml water
salt to taste
Instructions
1.
Prepare the masala by roasting all the ingredients until they turn slightly brown and you notice a nice scent. Then put the seeds and chillies aside and let cool off.
2.
Grind them into a medium-fine powder with a food processor or mortar.
3.
While roasting your masala, hard boil the eggs and let them cool off.
4.
In an Indian wok ("Kadai") or a coated deep pan heat up some vegetable oil and add the Kadai masala and all the other dry ingredients for the gravy. Let cook for a minute on low flame before adding the ginger and garlic paste.
5.
Then add the onions and let them cook until glassy. Add the green bell pepper and tomatoes as well as the green chillies. Add the water and as much salt as you like and let simmer for 10 minutes.
6.
Fry your eggs lightly in some vegetable oil (you can also use butter or ghee) and cut them in half. Add them to the curry and let simmer another 2 minutes.
7.
Serve this curry with some butter naan, roti or plain rice. Enjoy!
Print