Quick & Delicious: Tarte Flambée with Goat Cheese
Tarte Flambée with Goat Cheese
Prep Time:
30 Minutes
Prep Time:
6 Minutes
Total time:
36 Minutes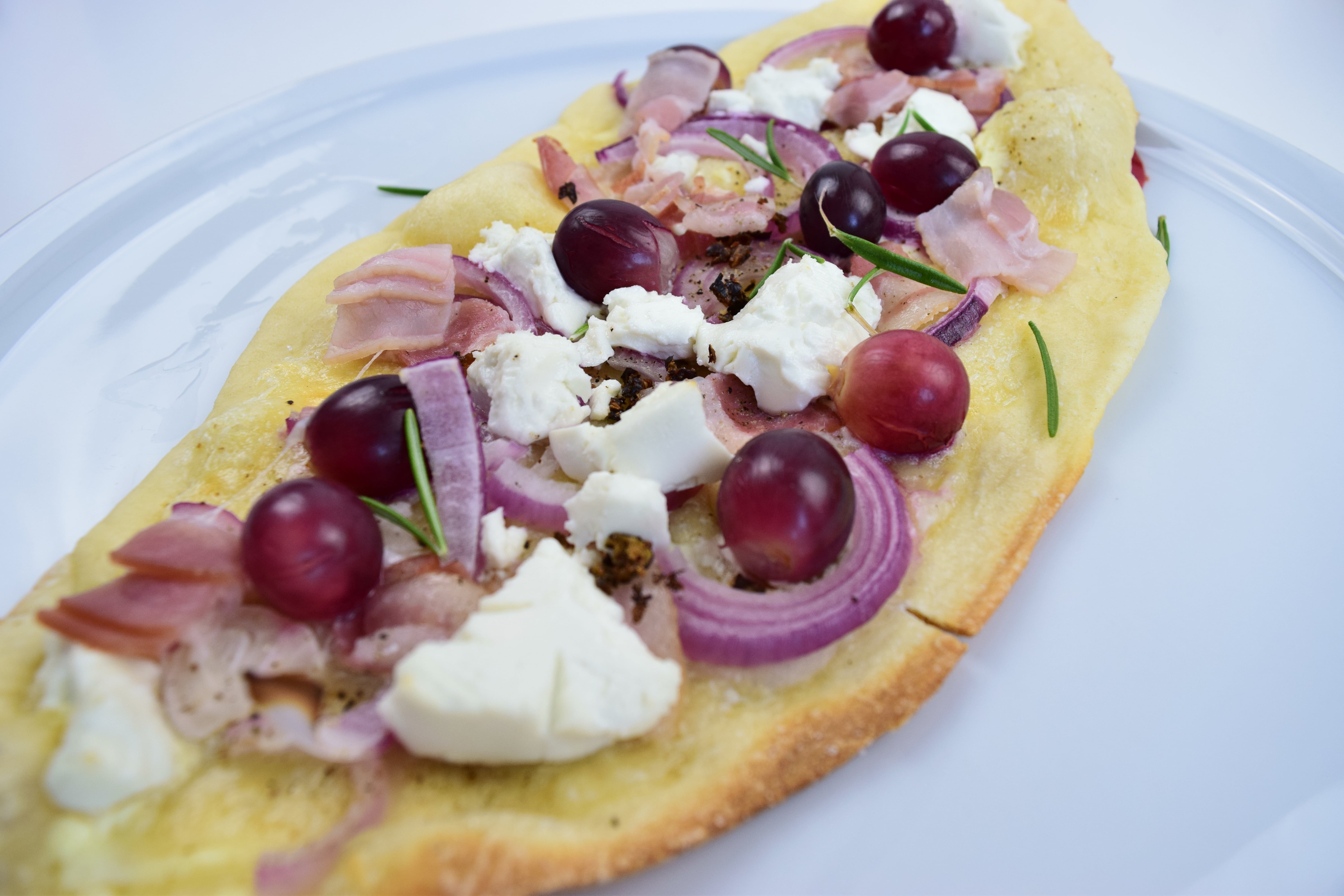 Ingredients
Tarte dough
10 g fresh yeast
4 tbsps warm water
250 g flour
100 ml buttermilk
2 tbsps olive oil
1 tsp salt
Toppings
2 large red onions
8 juniper berries
100 g bacon (in slices)
100 g crème fraîche
150 g fresh goat cheese
250 g seedless grapes
salt and pepper
some fresh rosemary
Instructions
1.
Start off by crumbling the yeast into a small bowl. Then mix it with the water and let it dissolve completely.
2.
Put the flour into a huge bowl and shape a hollow in the middle. Add the yeast mixture and mix it with some flour from the edges.
3.
Add buttermilk, olive oil and the salt. Combine everything with the handmixer (make sure to use dough hooks).
4.
When the dough is smooth, shape the dough into a ball, wrap it with transparent film and leave it to rise at a warm place for 2 h.
5.
While the dough is proving, you can prepare your toppings: Peel the onions, wash them and cut them into thin slices.
6.
Cut the sliced bacon into 1-2 cm thick pieces. Crush the juniper berries with a mortar and pestle.*
7.
Wash the grapes and remove them from the stem.
8.
Preheat the oven to 250° C. Knead the dough with your hands for at least 5-7 minutes to build up enough gluten.
9.
Then divide it into 4 equal pieces. Put every piece between two sheets of baking paper and start rolling it out extremely thin to an oval shaped tarte.
10.
Preheat two trays in the oven. Coat the blank dough evenly with the crème fraîche. A tablespoon per tarte usually is enough to cover it completely, just leave a small brim.
11.
Chuck the red onions and bacon on top. Use some of the crushed juniper berries and sprinkle them over the dough. Then add some salt and pepper to your liking.
12.
Crumble the goat cheese on top. Last step is to add the seedless grapes onto the dough.
13.
Transfer two tartes onto one hot tray from the oven and let cook on the ground of the oven for 6-7 minutes. Sprinkle some fresh rosemary on top.
14.
Enjoy your tarte flambée! (maybe with some nice French rosé wine)
Print
If you are a bacon lover just like me, make sure you use double the amount of bacon. And you can also use figs, dates or sweet apple slices instead of grapes.
*If you don't have one at home use a glass bottle and then chop them with a knife.