Quick & Delicious: Cookie Monsters (Halloween Cookies)
Halloween Cookie Recipe
Prep Time:
30 Minutes
Prep Time:
12 Minutes
Total time:
42 Minutes
Servings:
13-16 cookies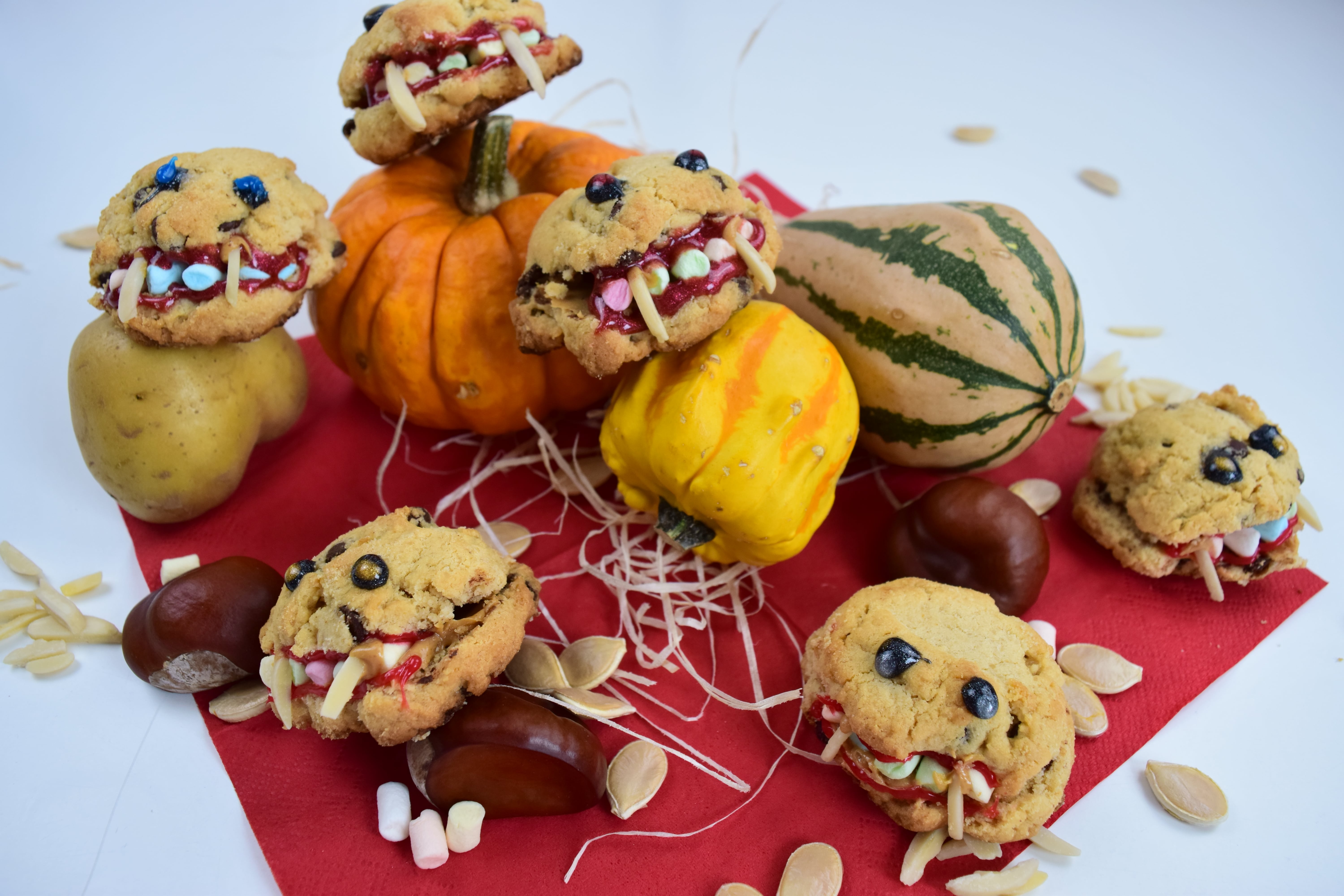 Ingredients
Cookie Dough
150 g butter (at room temperature)
150 g brown sugar
1 tbsp vanilla sugar
1/2 tsp salt
 2 tbsps peanut butter (unsalted and unsweetened)
1 egg
225 g flour
100 g chocolate drops
Decoration
some coloured icing and extra peanut butter
4-6 coloured mini marshmallows per cookie
2 almond slivers per cookie
Instructions
1.
Preheat the oven up to 200° C.
2.
Mix together the butter, sugar and the salt. Beat the mixture until foamy and add the egg. Add the peanut butter and mix until well incorporated.
3.
Before adding the flour to the bowl, change to dough hooks to simulate the kneading of the dough. Add in the flour and the chocolate drops.
4.
Shape 7-9 cookie balls per baking tray and place on top of the baking parchment leaving enough space between the balls. Bake for 12-15 minutes.
5.
Cut the warm cookies into halves and let them cool completely.
6.
Use some peanut butter to coat the two inner parts of the halved cookies.
7.
Add the mini marshmallows as a row of teeth and put one half of the cookie on top of the other to close the 'mouth'.
8.
Now add some coloured icing around the teeth as this resembles your monster's gum and add some eyeballs with a different colour of icing as well.
9.
At the end, put a final touch to the monster by adding some fangs - dip one side of each almonds sliver into the peanut butter and let them stick out of the mouth right and left of the marshmallow teeth. Enjoy!
Print