Sambar – Lentil Based South Indian Soup Recipe
South Indian Soup Recipe (Sambar)
Prep Time:
15 Minutes
Prep Time:
75 Minutes
Total time:
1 Hour
30 Minutes
Servings:
6-8 People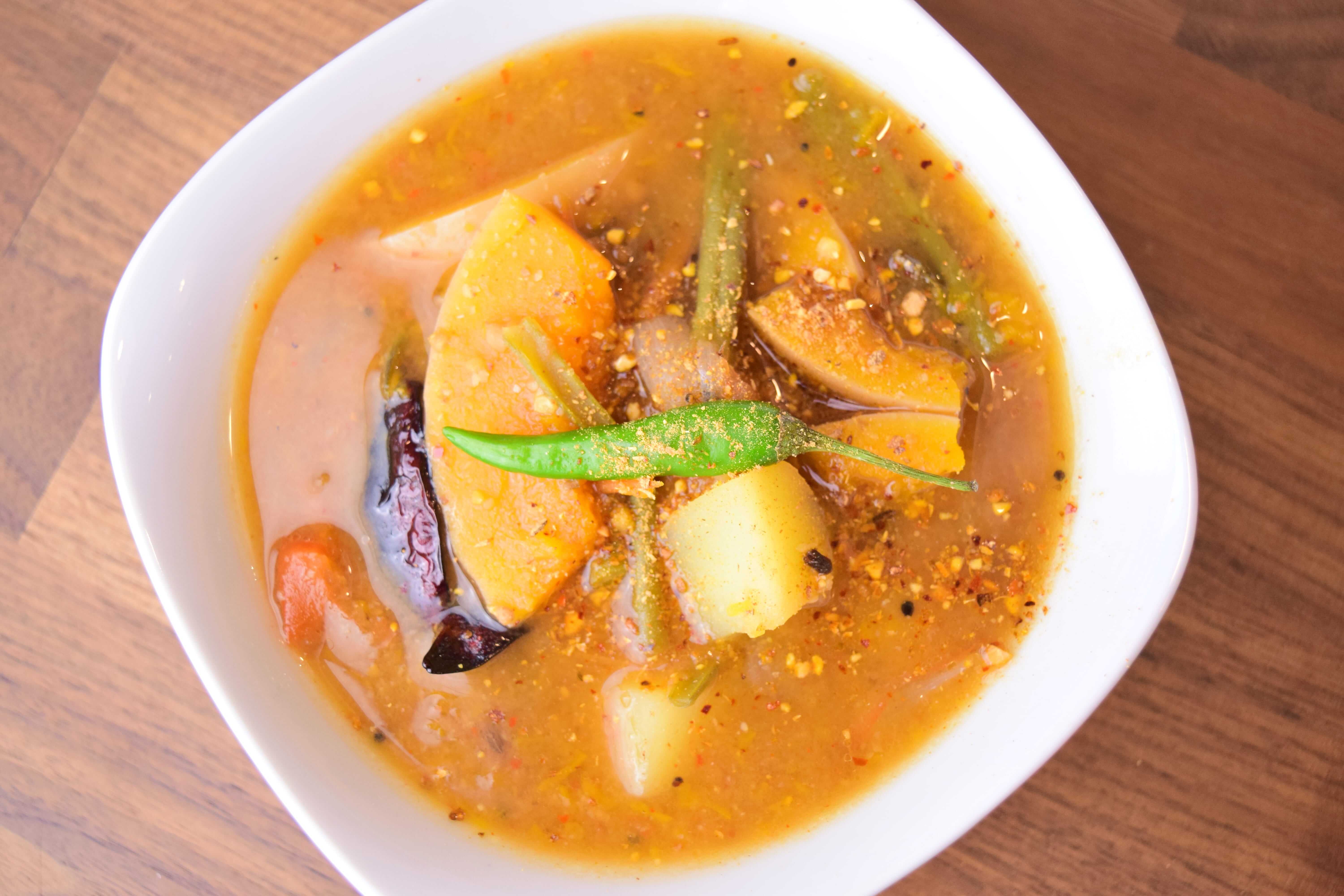 Ingredients
Sambar Masala and Tempering
1 tbsp coriander seeds
1 tbsp chana dal + 1 tsp urad dal
1 tsp cumin seeds
1 tsp fenugreek seeds
4-5 red Kashmiri chillies
a handful of curry leaves (fresh or dried)
1/2 tsp brown mustard seeds
1 tsp hing (asafoetida)
Soup
500 g mixed vegetables (usually including drumsticks and ladyfingers)
200 g tomatoes
1 - 1 1/2 tsp tamarind paste
150 g mixed lentils (toor dal, moong dal and masoor dal)
1 - 1 1/2 l water
salt to taste
Instructions
1.
Wash the mixed lentils several times and either pressure cook or cook in a regular pot until soft. The lentils need to very smooth.
2.
While they cook, dry roast the coriander seeds, the chana and urad dal, 1/2 tsp cumin, 1/2 tsp fenugreek seeds and 4 Kashmiri chillies until golden brown. Cool this mixture and grind it into a fine powder.
3.
Wash and chop your preferred vegetables and add them into a pot covering it generously with water. Let simmer for about 15-20 minutes until the veggies are soft.
4.
In the meantime, strain the cooked lentils and save 1-2 tbsp of the water. Pop the slightly cooled off lentils into a blender and make a fine puree adding the kept water. The mixture needs to be very smooth otherwise, it will be lumpy in the soup later.
5.
When the vegetables are completely cooked, add half of the sambar masala and salt to the soup. Cook for 3 to 5 minutes and add the tamarind paste according to taste. Next add the lentil puree and mix it well into the soup.
6.
Bring it to a boil. Check if there is enough salt and sourness - add more if needed.
7.
Meanwhile, prepare the tempering: Heat a pan with some oil and add the mustard, cumin and fenugreek seeds. When they begin to sizzle, add curry leaves and the leftover chilli. When the ingredients turn brown turn off the heat and add the hing.
8.
Pour this seasoning over the sambar and stir it well. Let simmer for another 2 to 3 minutes before you serve it with your idlis or some rice. Enjoy!
Print