Quick & Delicious: Spinach Quiche
Spinach Quiche Recipe
Prep Time:
30 Minutes
Prep Time:
45 Minutes
Total time:
1 Hour
15 Minutes
Servings:
6 People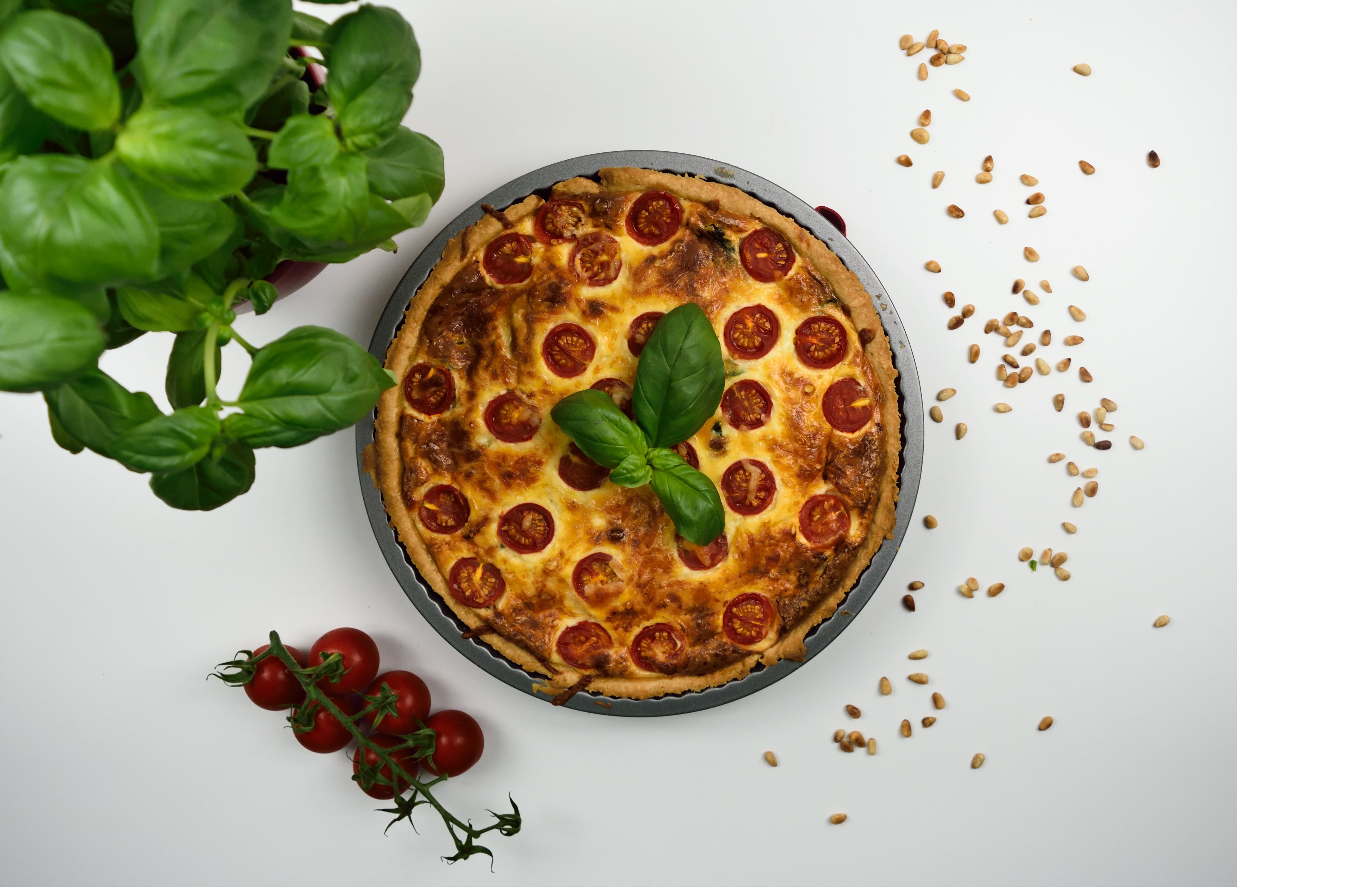 Ingredients
Shortcrust Pastry
250 g flour
125 g butter (cold)
1 egg
1/2 tsp salt and pepper
some water
Filling
300 g spinach (fresh and washed)
2-3 garlic cloves
2 shallots
2 tbsp butter
10 cherry tomatoes
150 g of emmental cheese
4 eggs
75 g cream
150 g crème fraîche
salt, pepper, nutmeg to taste
Instructions
1.
For the shortcrust pastry mix together the flour, butter (grated), egg and salt/pepper with a hand mixer. Then work the pastry with your hands and add some water from time to time until it has the right consistency.
2.
If you used butter that wasn't straight from the fridge - chill the pastry for 30 minutes in the fridge.
3.
Prepare the filling: Peel the shallots and garlic, chopp it up finely and gently cook them in a pan until soft and opaque.
4.
Add the spinach and let it collapse (use a lid to cover the pan). Season with salt, pepper and nutmeg.
5.
Wash the tomatoes and cut them into halves. Grate the cheese.
6.
Preheat the oven up to 200°C. Roll out the pastry between two sheets of parchment paper (this will keep your hands and table clean) until it fits the tarte mould.
7.
Grease and flour the form. Transfer the pastry into the mould and remove protruding pastry by rolling over the edges of the tarte mould with the rolling pin.
8.
Pierce the pastry with a fork. Now either blind bake for 10 minutes or glaze the pastry with some egg white to avoid a soggy bottom.
9.
While blind baking or after glazing the pastry, prepare the rest of the filling: Whisk together the crème fraîche, eggs and cream, season with salt, pepper and nutmeg to your liking.
10.
Layer the spinach and then about 100 g of the grated cheese on top. Pour the filling into the form. Add the rest of the cheese and drape the tomatoes on top.
11.
Off it goes into the oven for 45 minutes (35 minutes if blind baked). Serve with a simple green salad and enjoy with a glass of french white wine!
Print