Thai Orange Cake Recipe (Kek Sôm)
Kek Sôm (เค้กส้ม) Orange Cake Recipe by Cake My Day
Prep Time:
40 Minutes
Prep Time:
50 Minutes
Total time:
1 Hour
30 Minutes
Servings:
16 slices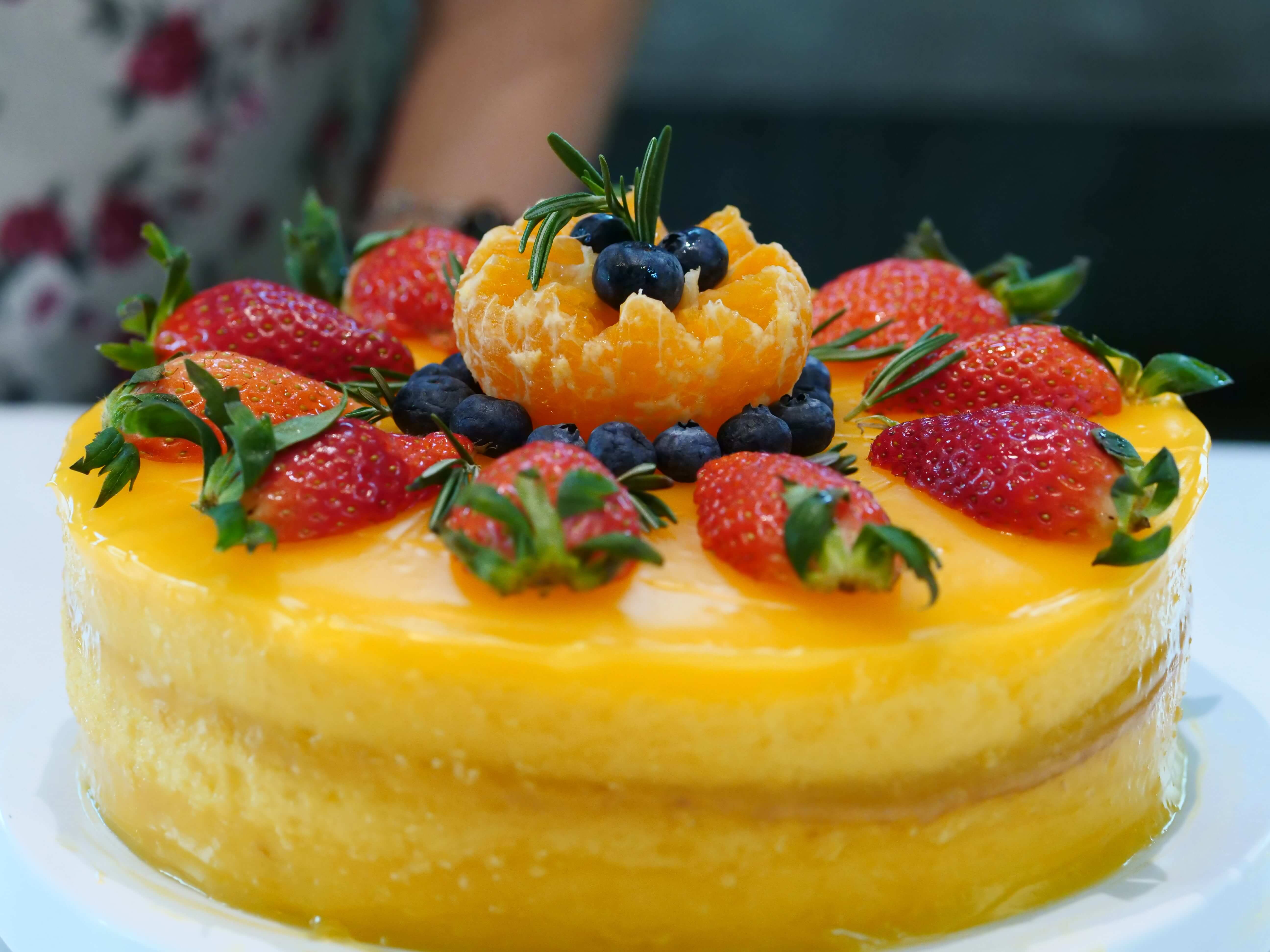 Ingredients
Cake Batter
100 g flour
1 tsp baking powder
80 g sugar
3 eggs
1/4 tsp salt
40 ml evaporated milk
35 ml water
15 g SP (foaming and emulsifying ingredient for cakes)
70 g unsalted butter (melted)
1 tsp orange extract (or zest of an orange)
Frosting
400 ml water
70 ml orange squash concentrate
120 g sugar
40 g modified starch (or cornstarch)
50 g unsalted butter
Instructions
1.
First, let's make the cake: Preheat the oven up to 180° C. Line the base of a 26 cm round baking mould or springform with baking parchment.
2.
Put the eggs and sugar into a large bowl and mix them with an electric hand mixer, whisk together until the mixture is foamy and rather pale.
3.
Add the flour and baking powder into an extra bowl, sieve 3 times and then mix it into the egg mixture. Pour in the melted butter in a slow and steady stream while mixing until well incorporated and add the orange essence, too.
4.
Pour the mixture into the lined springform and bake for 35 minutes. Set aside to cool completely upside down on a wired rack.
5.
Prepare the frosting just before you want to assemble the cake: Into the pot with water add the sugar, orange squash and modified starch. Whisk well until no starchy lumps are left.
6.
Heat up the mixture for about 10-15 minutes on low to medium heat until it's thickened up. Remove the mixture from the stove and whisk in the cold butter until melted and fully incorporated (this will help make it shiny).
7.
Now let's assemble the cake. Cut the cake horizontally into three even layers. Place one of the layers onto a serving plate. Spread a thin amount (a little over 1/4) of the still hot frosting over the base.
8.
Place the second layer of cake on top and repeat. Place the third layer on the little cake tower and frost the whole cake with the rest of the mixture.
9.
Set aside in the fridge for 2-3 hours. Top the cake with your choice of fresh fruits and serve with some tea or coffee. Enjoy!
Print