Zagorski Štrukli (baked Croatian strukli)
Zagorski Štrukli Recipe
Prep Time:
80 Minutes
Prep Time:
30 Minutes
Total time:
1 Hour
50 Minutes
Servings:
6 People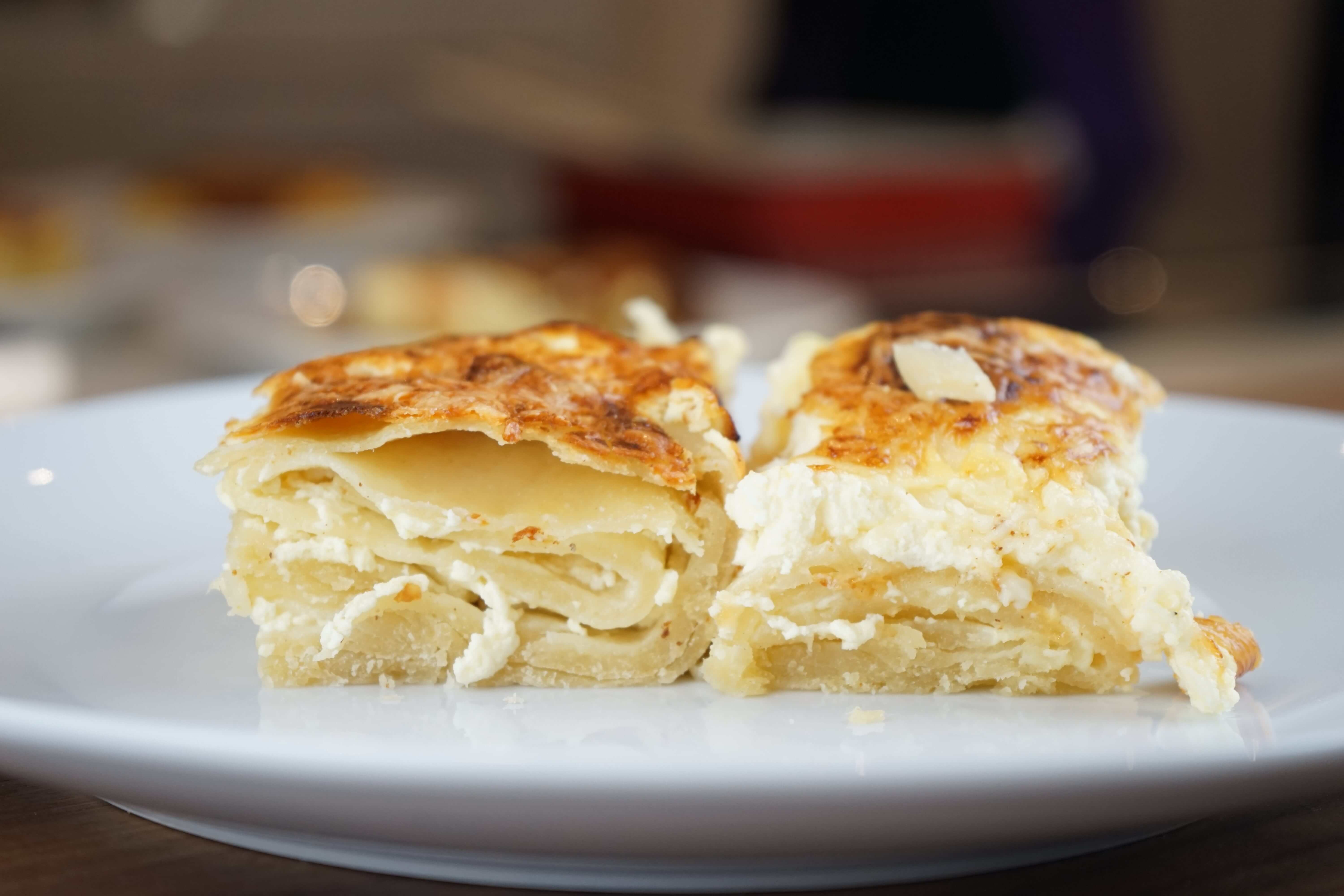 Ingredients
Dough
500 g flour
1 tsp salt
1 egg
2 tbsp sunflower (or vegetable oil)
1 tbsp vinegar
some lukewarm water (about 100 ml)
Filling
500 g fresh cottage cheese
100 g butter
2 eggs
100 g sour cream
some salt and pepper
Topping
some leftover filling or sour cream
handful grated cheese (any type)
Instructions
1.
Make the dough: Sift flour into a bowl and make a well in the middle. Put the egg into the well (this is optional), add oil, vinegar, salt and combine all ingredients using fork.
2.
Mix some lukewarm water gradually into the dough, until it all comes together. Knead the dough with hands until it is smooth and elastic. Wrap in transparent foil and leave for 30 minutes.
3.
While the dough rests, prepare the filling: Mix fresh cottage cheese with the sour cream, add the eggs and salt and pepper to your liking. Whisk it until well combined.
4.
Melt the butter and let cool off. Take a clean tablecloth and dust with some flour. Put the dough onto it, roll out slightly with rolling pin until flat and then begin stretching it with your palms.*
5.
When you can see your palms through the dough it's ready to go (this can take up to an hour or longer). Then sprinkle it with some melted butter.
6.
Brush the filling over the dough until 3/4 of the dough are covered. Roll it, using tablecloth (check out the video).
7.
Use your hands to measure and separate the dough into equal parts - cut them with a plate. You could use a knife to cut it, but using a cmall plate firmly seals the edges and ensures the filling doesn't pour out of strukli.
8.
Put all heavenly pillows into a buttered baking dish and pour the rest of the butter and filling on top. (If there is no filling left, use plain sour cream.)
9.
Sprinkle the cheese on top and bake at 180 °C for roughly 30 minutes until the cheese has browned perfectly. Enjoy!
Print
*Be gentle and patient, stretch it from the middle. Don't stress out if it breaks.