German Obstboden or Obsttorte (with strawberries)
Obsttorte Recipe
Prep Time:
30 Minutes
Prep Time:
35 Minutes
Total time:
1 Hour
5 Minutes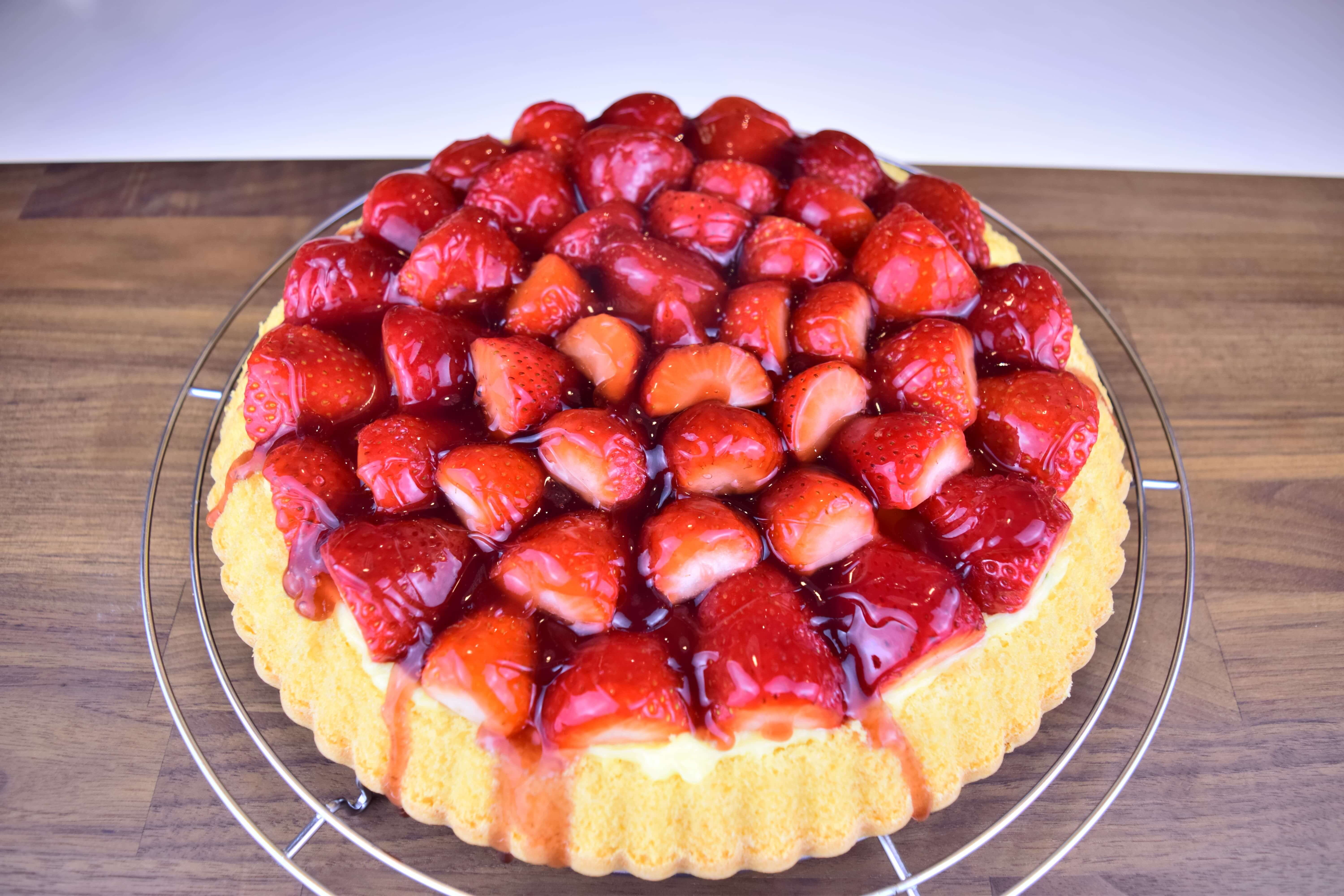 Ingredients
160 g flour
750 g strawberries (or other slightly tart fruits)
140 g sugar
2 tbsp vanilla sugar
3 eggs
120 ml oil (e.g. canola oil)
250 ml red berry juice
250 ml milk
1 tsp baking powder
1 package custard powder
1 package glaze powder
Instructions
1.
Preheat the oven up to 180° C. Mix together the eggs with sugar and 1 tbsp of the vanilla sugar.
2.
When the mixture is fluffy add the oil and incorporate with the hand blender. Add the flour and baking powder and mix well.
3.
Grease the cake mould and fill it with the dough. Even out and bake for 20 minutes on middle shelf of the oven.
4.
In the meantime prepare the custard by heating up the milk and mixing the powder, vanilla sugar and some tbsp of milk together.
5.
When milk is shortly before boiling add the vanilla mix and keep stirring until you get a thick custard (this is due to the amount of milk).
6.
Set aside and cover with transparent foil to prevent the custard from developing a skin. Let both, sponge cake and custard cool off completely.
7.
Clean and halve the strawberries and cream the custard until easily spreadable. Distribute the custard on top of the cake and decorate with strawberries in a flower shape or the way you prefer.
8.
Set aside while making the glaze. Heat up the red berry juice and add the glaze powder. Keep stirring until it thickens up. Then set aside for about 5 minutes before pouring over the strawberries - this is to keep them in place.
9.
Now wait until the glaze has set or pop into the fridge until serving. Enjoy!
Print