Balinese Sambal Oelek and Sambal Matah
Balinese Sambal Oelek and Sambal Matah Recipe
Prep Time:
10 Minutes
Prep Time:
10 Minutes
Total time:
20 Minutes
Servings:
6-8 people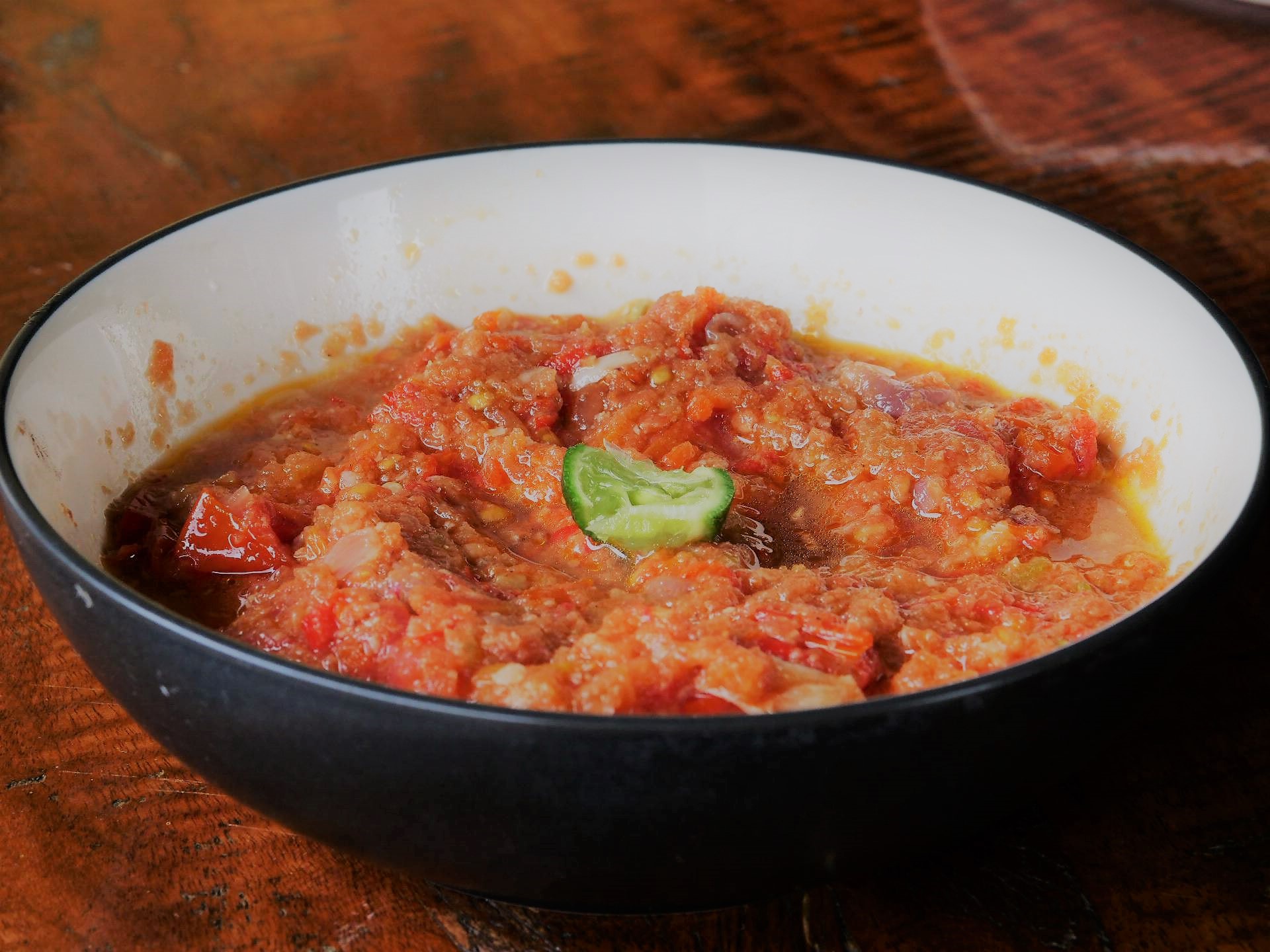 Ingredients
Sambal Oelek
2-3 large chillies (add 1-2 bird's eye chili if you like it very hot)
3 large tomatoes
5 Asian shallots
2 garlic cloves
1/2 tsp shrimp paste
2 candlenuts (cooked)
1 tsp palm sugar
1 tsp sugar
1/2 tsp sea salt
1 kaffir lime
100 ml oil (vegetable or coconut oil)
Sambal Matah
3-4 large red chillies (add 1-2 bird's eye chili if you like it very hot)
7 Asian shallots
1/2 tsp shrimp paste
2 tbsp coconut oil
sea salt
Instructions
1.
Sambal Oelek: Top and halve the chillies, remove seeds. Wash it well before slicing it up and adding it with the peeled and halved shallots into a bowl.
2.
Clean and halve the tomatoes and garlic. Fry off the shallots first in 100 ml oil before adding the garlic and the chilis. Add the candlenuts, palm sugar and tomatoes and let fry for 2-3 minutes.
3.
Add the shrimp paste and let everything simmer until it's dissolved. Pop the ingredients into a mortar getting rid of the oil beforehand. Add sugar and sea salt.
4.
Smash everything with a pestle until you get a creamily textured sambal. Add the juice of a kaffir lime and it's ready to be eaten. Enjoy!
5.
Sambal Matah: Top the chillies, no need to get rid of the seeds. Wash them together with the peeled shallots. Slice the chilis and shallots as finely as possible and keep aside in a bowl.
6.
Fry off the shrimp paste lightly in a bit of oil and add it to the bowl. Mix well while adding the coconut oil.
7.
Finish off with some sea salt to taste and serve with seafood, chicken or typical satay. Enjoy!
Print