Thai Green Curry Paste
Traditional Green Curry Paste Recipe
Prep Time:
30 Minutes
Total time:
30 Minutes
Servings:
6-8 complete Thai green Curry dishes for 2 ppl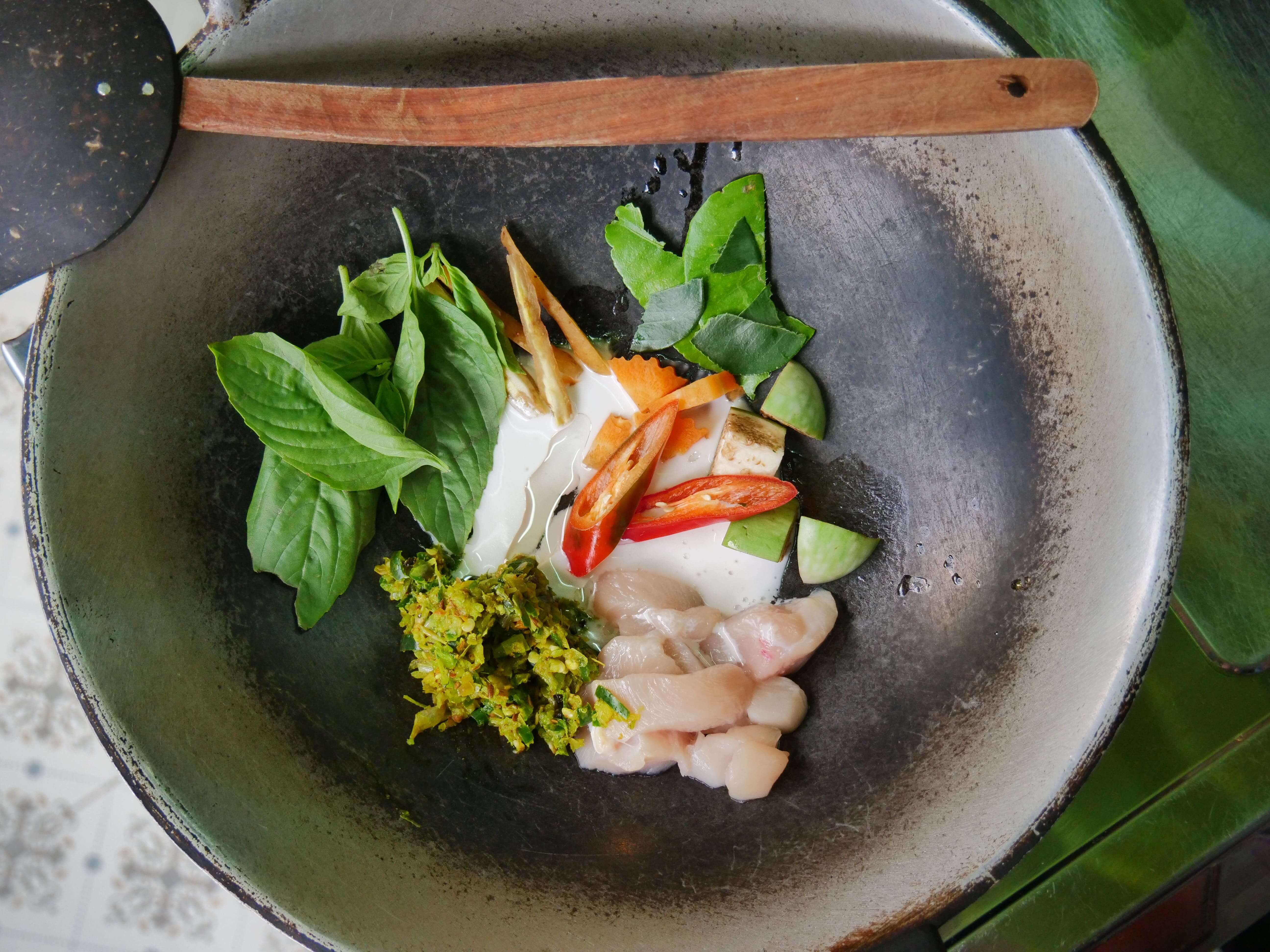 Ingredients
15 green spur chillies
8 bird's eye chillies (green and red)
1 1/2 tsp galangal ginger
1 tsp fresh turmeric
a handful Thai garlic
1 stick lemongrass
1 kaffir lime peel
4 coriander roots
a handful Thai shallots
1/2 tsp cumin seeds
1/2 tsp black peppercorns
1/2 tsp coriander seeds
1 tsp shrimp paste (optional)
Instructions
1.
First off - get your big mortar and pestle out. You could totally do the curry paste without manually smashing the ingredients but if you use an electric food processor the ingredients will all get heated up in the vessel and the aroma might get lost.
2.
Get the spices heated up in a large pan to roast them slightly for about a minute on high heat (no need for oil or water in the pan).
3.
Wash all ingredients well and then peel the shallots. The garlic can stay in its peel as it's very soft and will give extra flavour in the paste. Seeds shall not be removed from the chillies.
4.
The lemon grass can be cut into smaller pieces. Peel the kaffir lime and add to the mortar. In order to have a better, thorough and not as exhausting crushing process equip yourself with a sharp knife and slice the rest of the ingredients up finely before adding to the mortar.
5.
Add the cooled off spices and all the other ingredients into the mortar and crush heavily. Keep mixing and crushing until you have the pieces as fine as you like and all the aromas well combined in the paste.
6.
Add to your favourite veggies along with some coconut milk, fish sauce etc. and enjoy!
Print