Kaeng Massaman Gai – Thai Massaman Curry Recipe
Kaeng Massaman Gai Recipe
Prep Time:
30 Minutes
Prep Time:
25 Minutes
Total time:
55 Minutes
Servings:
2 People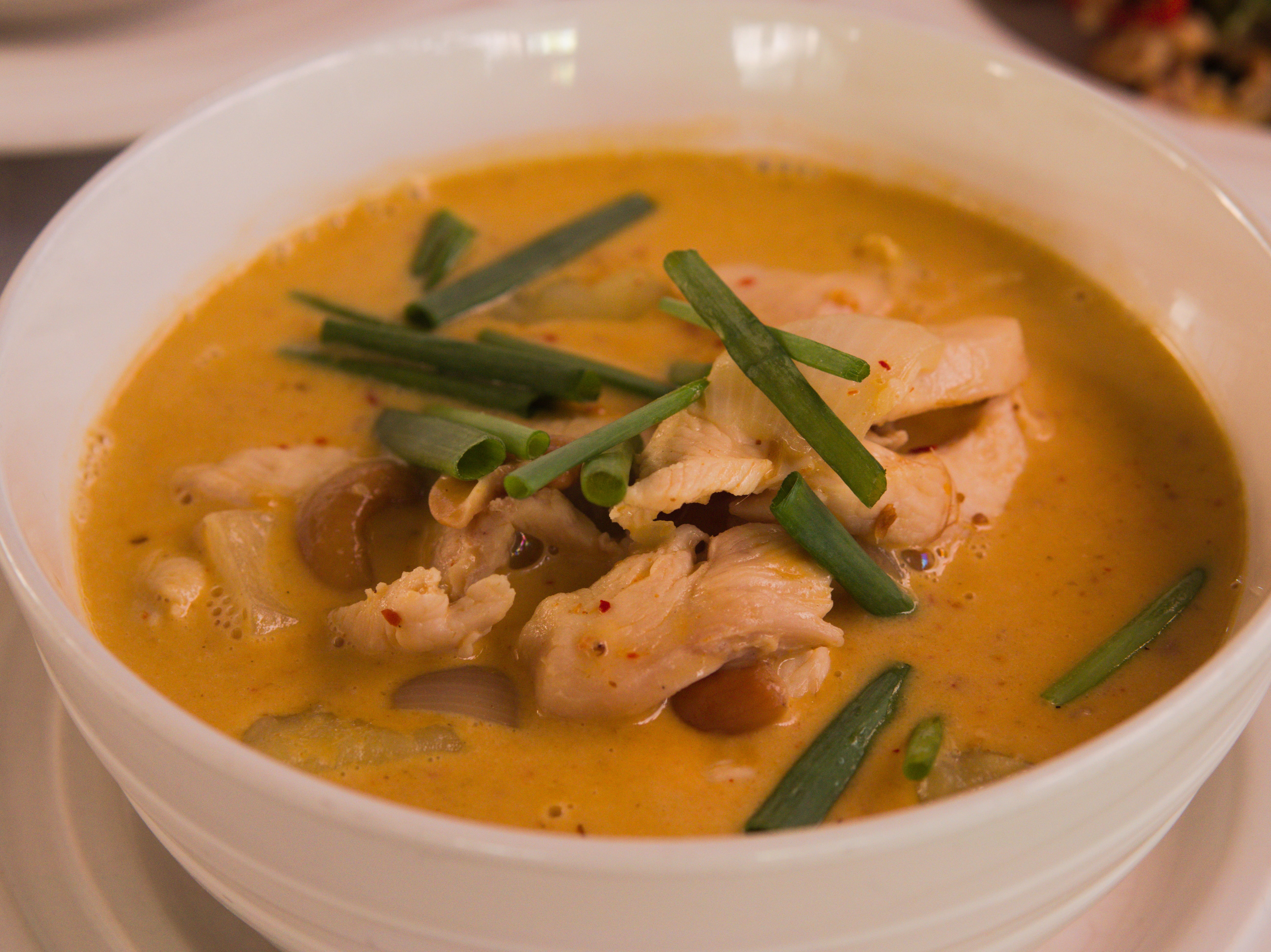 Ingredients
Paste
5 dried red spur chillies (add 1-2 bird`s eye chillis if you like it a little hotter)
3 tbsp garlic
2 shallots
2 lemongrass sticks
1 tsp galangal ginger
1 tsp kaffir lime rind
1 coriander root
1 tsp salt
3-4 cardamom pods
1/4 cinnamon stick
1 tsp coriander seeds
1/2 tsp cumin seeds
1 tsp black peppercorn
2 cloves
1 tsp shrimp paste
Massaman Curry
3 boiled potatoes
1/2 onion
2 spring onions
handful roasted cashew nuts
200 g chicken breast
1/2 tbsp Massaman curry paste
1/2 tbsp chicken stock concentrate
1 tbsp palm sugar
250 ml coconut milk
some spring onion (garnish)
Instructions
1.
For the Curry Paste: Deseed the dried chillies and soak them in water for about 10-20 minutes. Pat them dry and cut them into small pieces.
2.
Peel and slice the garlic and shallots. Remove the outer layers of the lemongrass and slice the bottom third finely (bin the rest). Clean the fresh Galangal and cut into small pieces. Slice the kaffir lime rind finely as well as the coriander root.
3.
Roast the cardamom, cinnamon, coriander, cumin, black pepper and cloves in a pan (no oil needed) until they are fragrant. Set aside. Roast the fresh ingredients in the same pan until they are slightly brown.
4.
Use your mortar and pestle to grind the roasted seeds etc. into a powder. After that add the salt and the rest of the ingredients step by step, crushing them as fine as possible - a rather dry paste should form.*
5.
Once prepared, the curry paste can be stored in a jar with a little vegetable oil in the fridge for several months.
6.
For the Curry: Clean and cut the chicken into small bite-size pieces. Cut the potatoes the same size (leftover potatoes work best for that dish). Slice the spring onions into 1 cm pieces and cut the onion into quarters.
7.
Heat up the coconut milk and the Massaman curry paste in a small pot. Add all fresh ingredients into the pot and let simmer for 7-10 minutes.
8.
Add the palm sugar and chicken stock concentrate as well as some black pepper to taste.
9.
Serve with some Jasmine rice and a bit of spring onion as a garnish on top. Enjoy!
Print
*You could probably use an immersion blender but try to refrain from a food processor as that will give you a coarse mixture and the resulting heat may reduce flavour.