English Fruit Trifle – the Best British Dessert
Fruit Trifle Recipe
Prep Time:
40 Minutes
Prep Time:
25 Minutes
Total time:
1 Hour
5 Minutes
Servings:
8 people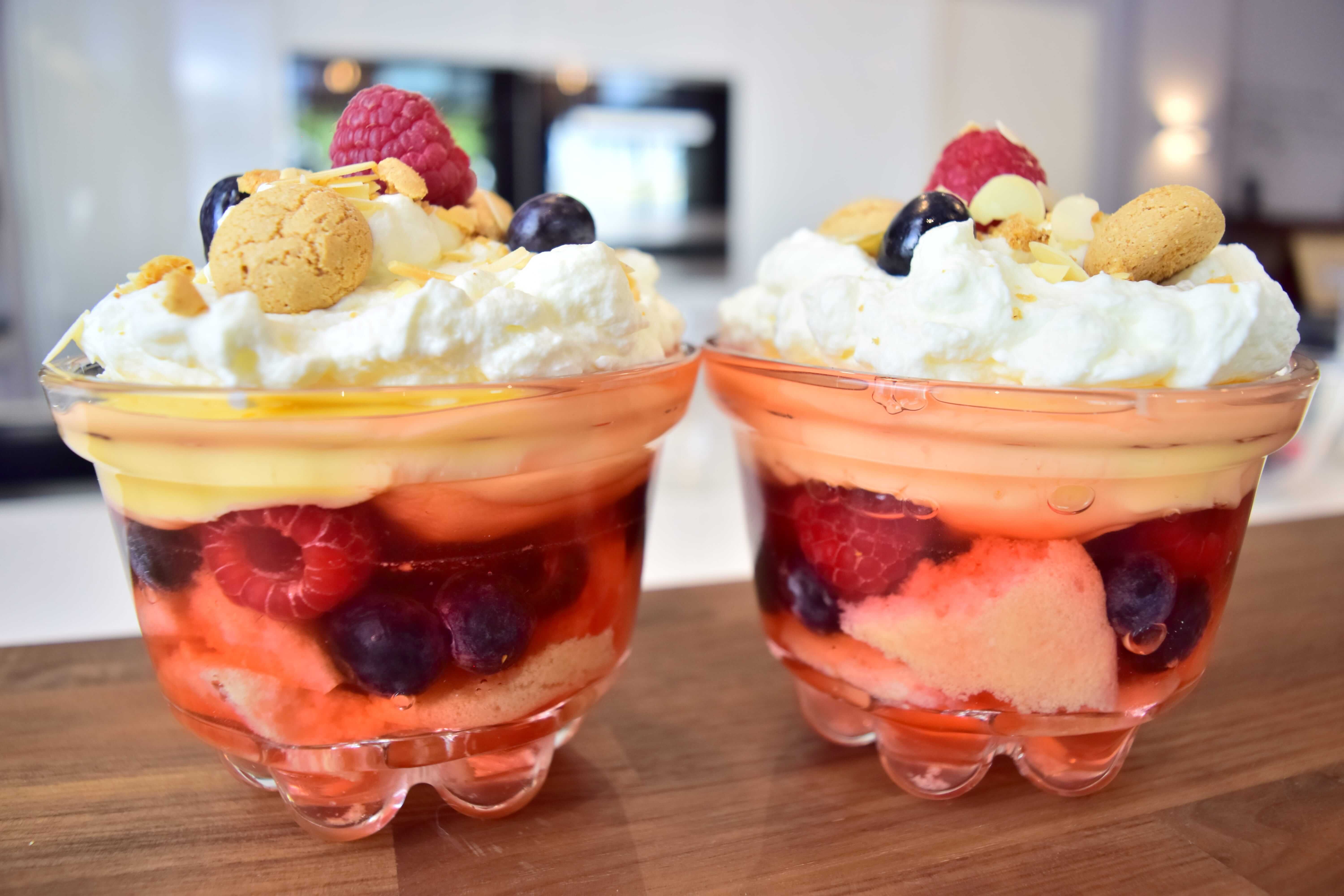 Ingredients
570 ml water
1 pack of Hartley's jelly
600 ml milk
80 g sugar
75 g Bird's custard powder
450 g sponge fingers, madeira cake or swiss roll
400 g fresh or tinned fruit
4 tbsp sherry (medium dry)
300 ml cream
1 tbsp vanilla sugar
almond flakes and amarettinis or other toppings
Instructions
1.
First off let's make the jelly: Heat up half of the water and place jelly cubes in a heatproof bowl. Add the boiling water while stirring to dissolve the jelly.
2.
Then add the rest of the cold water and stir until fully incorporated. Set aside.*
3.
Get your trifle dish or small glasses and line the bottom with cake slices or trifle sponges (I tend to rip them to smaller pieces). Throw the fruit (bite-sized) on top of the cake.**
4.
Pour the sherry into the dish or brush the cake with the sherry and leave to soak for 5 minutes. Pour over the liquid jelly making sure it covers the sponge and the fruit.
5.
Place the dish into the refrigerator again and leave until the jelly is fully set - this should take about 3 hours if you haven't preset the jelly.
6.
Just before the jelly is set, make the custard. Prepare according to instructions - whisk together the sugar and custard powder, then add a splash of milk and stir well.
7.
Bring the rest of the milk to a boil. Add the milk to the custard mix and mix well. Transfer back to the pot and heat carefully. Let the mixture thicken well while stirring.
8.
Once the jelly is set, spoon over the custard and refrigerate for another 2 hours or until fully set.
9.
Whip the cream slowly adding the vanilla sugar. Roast the almond flakes without fat in a pan. Add a layer of cream on top of the trifle and decorate to your liking with sprinkles, almond flakes and amarettinis. Spoon away!
Print
*Here comes my tip: Refrigerate the jelly for about 1 hour or until just starting to set (it should have a syrupy consistency).
**If using tinned fruit, make sure to drain before putting it on the cake.