Wiener Schnitzel with Anchovy Butter – the most famous Austrian veal cutlet
Traditional Wiener Schnitzel Recipe
Prep Time:
20 Minutes
Prep Time:
10 Minutes
Total time:
30 Minutes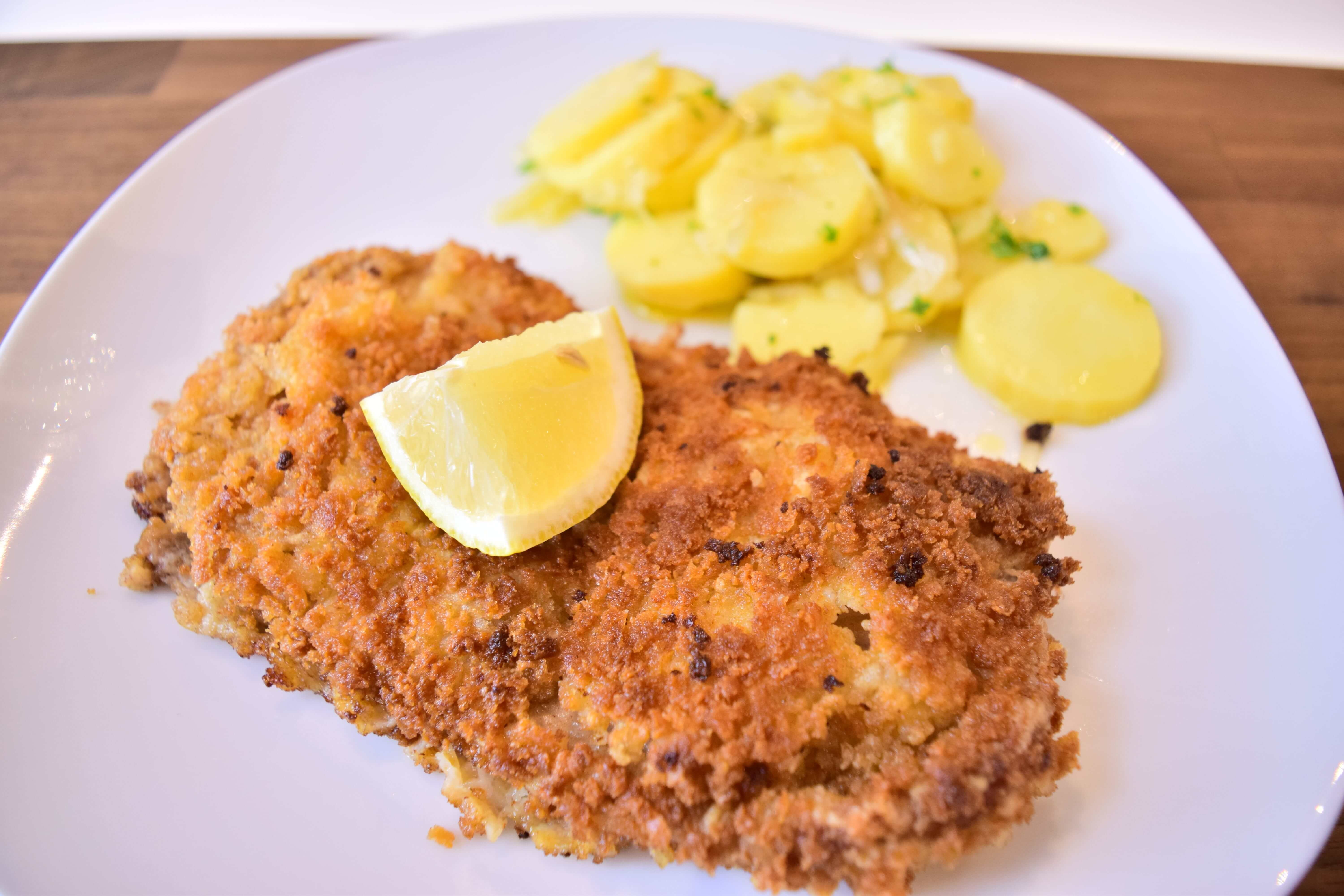 Ingredients
Anchovy Butter
120 g butter (room temperature)
1 shallot
2 tsp capers
2 anchovy fillets
zest of a lemon
salt to taste
Wiener Schnitzel
4 veal cutlets (each about 140-160g)
2 eggs
2 stale white bread rolls
150 g clarified butter
salt
flour (optional)
Instructions
1.
Prepare the anchovy butter: Make a fine paste of the anchovies by crushing them with a knife or using a food blender. Peel and wash the shallots and chop them very finely.
2.
Also chop the capers very finely and add all ingredients together with the butter into a bowl. Mix well and add some salt. Refrigerate until needed.
3.
For the Schnitzel: Grate the rolls into fine or coarse breadcrumbs (as you prefer) and add them onto a flat plate. Also scramble the eggs on a flat plate. Prepare another flat dish with flour (optional).
4.
Cover the cutlets with some transparent foil before pounding them lightly with a heavy pan (preferably iron cast).* When the meat is about 5 mm thick it's perfect.
5.
In a large pan, melt the clarified butter for the schnitzel to be able to swim freely in the fat until it reaches about 160-170 °C. Salt the cutlets generously on both sides and then straight after draw through the beaten eggs, ensuring that no part of the schnitzel remains dry. Coat in the breadcrumbs and carefully press down the crumbs with your fingers slightly tapping onto the meat in order to get the perfectly fluffed up coating while frying.**
6.
Brown evenly on both sides for about 3-4 minutes. Meanwhile heat up some of the anchovy butter (2 tsp per cutlet). Remove the schnitzel from the heat and place them on kitchen paper to dry off.
7.
Serve with some potato salad or some boiled potatoes and add the hot anchovy butter on top of the crispy Wiener Schnitzel. Enjoy!
Print
*Please do not use meat tenderizer as the veal is already tender and we don't want to destroy the meat.
**You can flour the schnitzel before dipping it into the egg, though this is not traditional.