German Osterzopf (Hefezopf) – Sweet German Easter Bread
Sweet German Easter Bread (Osterzopf) Recipe
Prep Time:
30 Minutes
Prep Time:
35 Minutes
Total time:
1 Hour
5 Minutes
Servings:
20-22 slices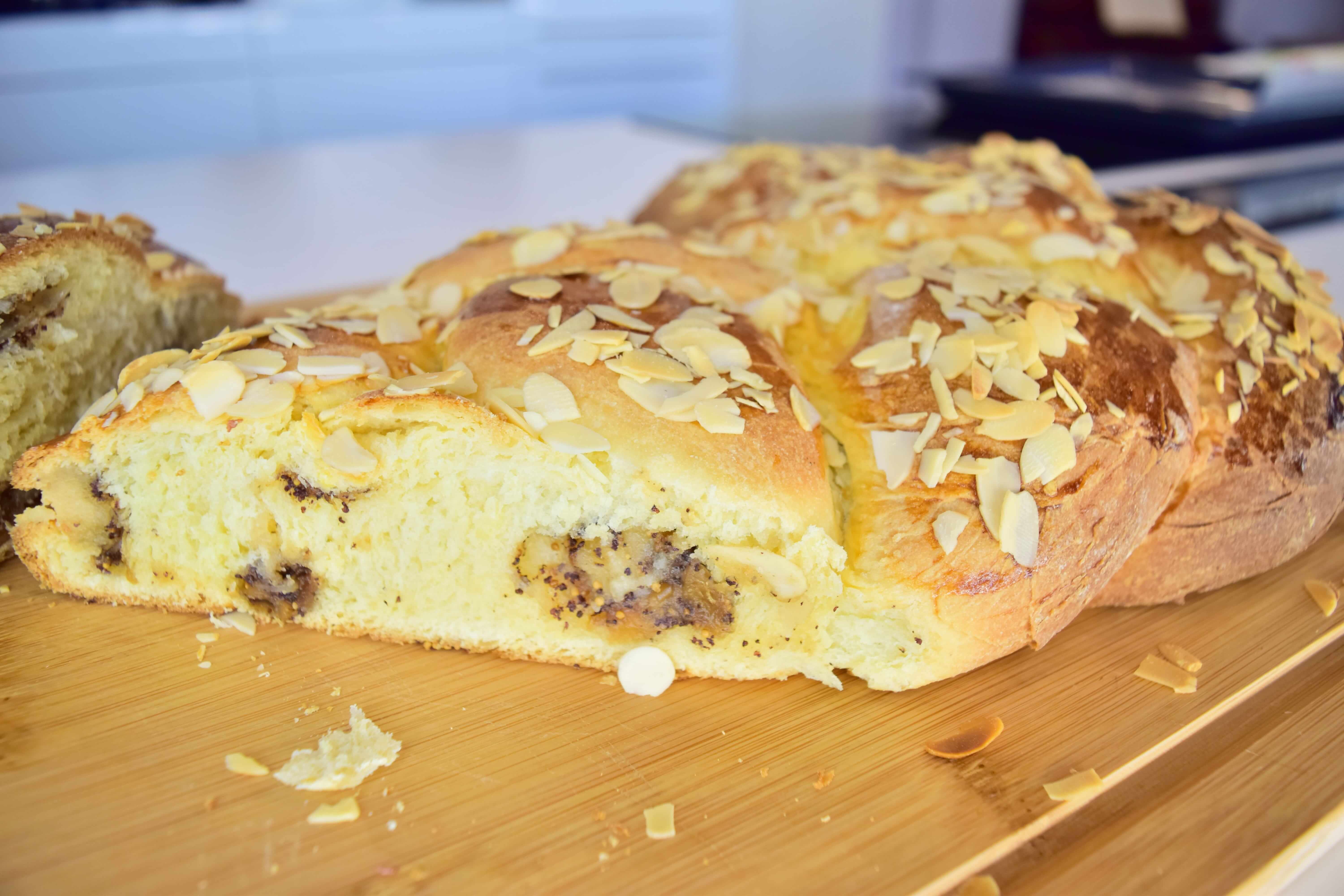 Ingredients
Dough
500 g flour
100 g sugar
20 g vanilla sugar (or 2 tsp vanilla extract)
125 ml lukewarm milk
2 eggs (at room temperature)
1 tsp salt
100 g butter (at room temperature)
Filling
100 g dried figs
100 ml red berry juice
2 tbsp rum
2 tbsp poppy seeds
100 g marzipan
1 egg
handful of almond flakes
Instructions
1.
For the dough: Put the flour into a huge bowl and make a well in the middle. Get a small bowl and break up the fresh yeast into small pieces, add a tsp of sugar, 2 tbsp flour and some lukewarm milk (around 4 tbsp) and mix it up until the yeast has dissolved into the mixture.
2.
Pour the mixture into the well and cover lightly with some flour from the edges. Cover with some transparent foil and let rest at a warm place for 20 minutes.
3.
After resting, pop the remaining ingredients for the dough into the flour and mix up with a hand blender and the dough hooks attached. Knead shortly with your hands on a floured surface and then cover the dough again and let prove for 45 minutes.
4.
In the meantime prepare the fig filling: Heat up the juice and the rum in a small pan and chop up the figs into small pieces. Cover them with the juice and add the poppy seeds.
5.
Set aside for at least 20 minutes or until the dough is ready to be filled. Chop the marzipan into small pieces, too and set aside until we fill the dough.
6.
When the dough is done proving, transfer it onto a floured surface and knead lightly for 2-3 minutes. Then spread it out with a rolling pin until 1/2 cm in height and 40x50 cm in size.
7.
Now cut the dough into three stripes along its length and start spreading the fig mixture onto the strips leaving a small rim around the edges. Also add the marzipan and some almond flakes (leave some for decorating the top).
8.
Roll up the strips into long rolls and start braiding them pressing the end and the beginning of the strips together. Put the bread onto a baking tray lined with parchment paper and cover again to prove for another 40 minutes.
9.
Preheat the oven up to 180 °C and beat up the egg. Cover the risen dough with some egg wash and sprinkle the remaining almond flakes on top. Pop into the oven and bake for 30-35 minutes (make sure to cover the top with some parchment paper if the bread gets too dark). Let cool off a little and enjoy!
Print