Indian Phirni (Refined Indian Rice Pudding)
Indian Rice Pudding Recipe (Phirni)
Prep Time:
35 Minutes
Prep Time:
15 Minutes
Total time:
50 Minutes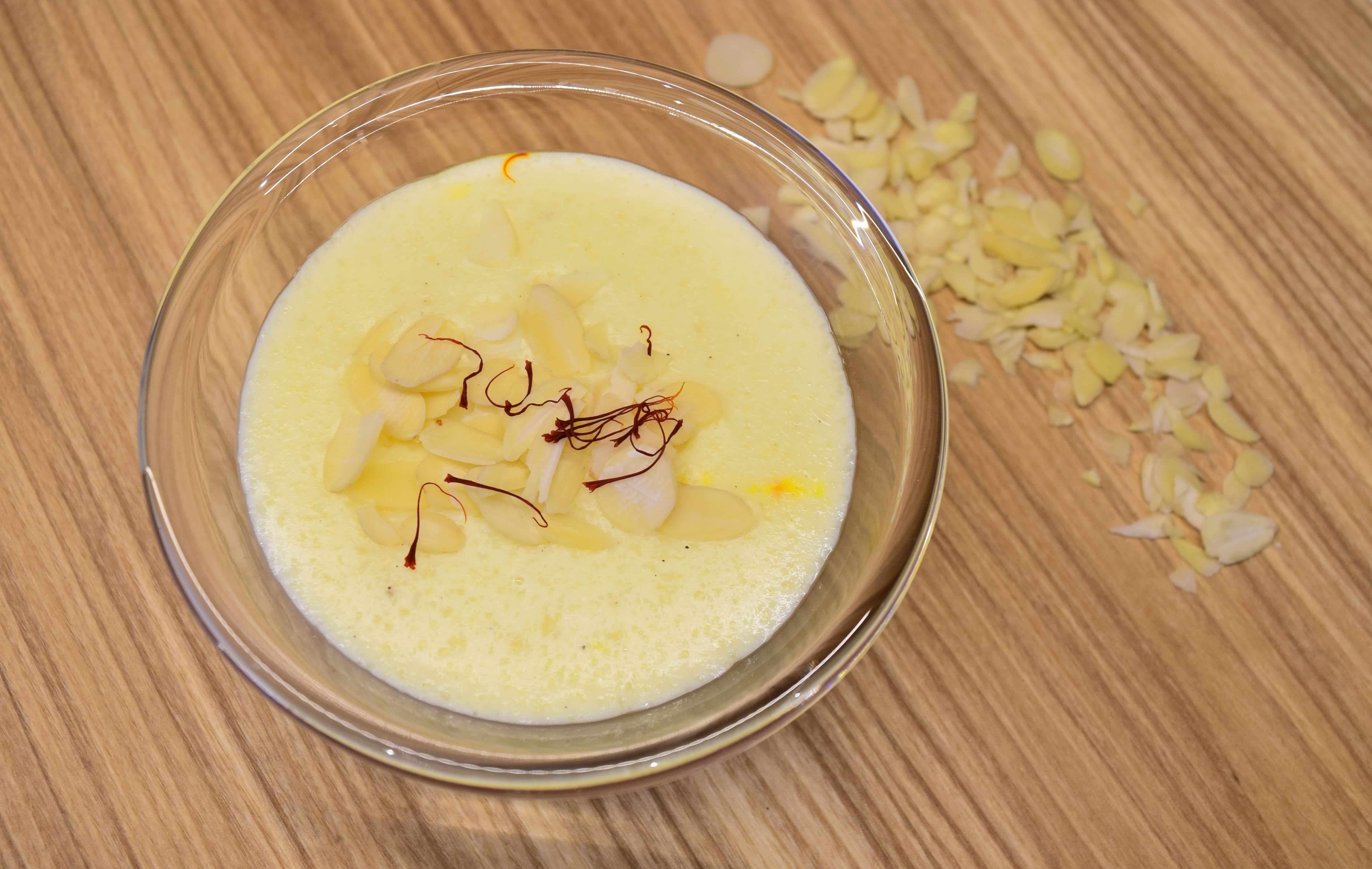 Ingredients
50 g basmati rice
120 ml + 550 ml milk
50 g sugar
handful blanched almonds
5-6 saffron strands (and some more to decorate)
1/4 tsp green cardamom powder
1 tsp rose water
some almond and/or pistachio flakes for decorating
Instructions
1.
Rinse basmati rice in running water and soak for at least 30 minutes (best 1 h) in water. If you are short of time take hot water - that will reduce the wait to 15 minutes.
2.
Add blanched almonds to the small food processor or grinder and grind them with 1 tbsp water into smooth paste. If the paste isn't fine enough add another 2-3 tbsp. Transfer it to a small bowl.
3.
Drain excess water and also transfer rice into the grinder or food processor. Add 2-3 tablespoons of water before grinding it into a thick and smooth paste.
4.
Mix prepared paste with 120 ml of milk and keep aside. Heat remaining milk in a pot and bring it to a boil over medium heat.
5.
Take the saffron strands, soak them in a teaspoon of the warm milk and set aside. When it starts boiling, add rice-milk mixture and reduce the flame to low and let simmer with continuous stirring until the mixture turns creamy and slightly thick. This will take around 5-6 minutes.
6.
Add sugar, green cardamom powder and dissolved saffron strands. Keep stirring and cook until sugar is completely dissolved (about 2-3 minutes). Add almonds paste and mix well.
7.
Turn off the flame after 1-2 minutes and add the rose water. Transfer hot phirni to a serving bowl. Garnish with some almond and/or pistachio flakes and some extra saffron strands and let it cool at room temperature before putting it into the fridge for 1-2 hrs.
8.
Enjoy cold from the fridge or warm straight from the pot!
Print