Empanadas criollas (Argentine Empanadas) with meat and veggie filling
Empanada Recipe (Dough)
Prep Time:
30 Minutes
Prep Time:
15 Minutes
Total time:
45 Minutes
Servings:
10-20 discs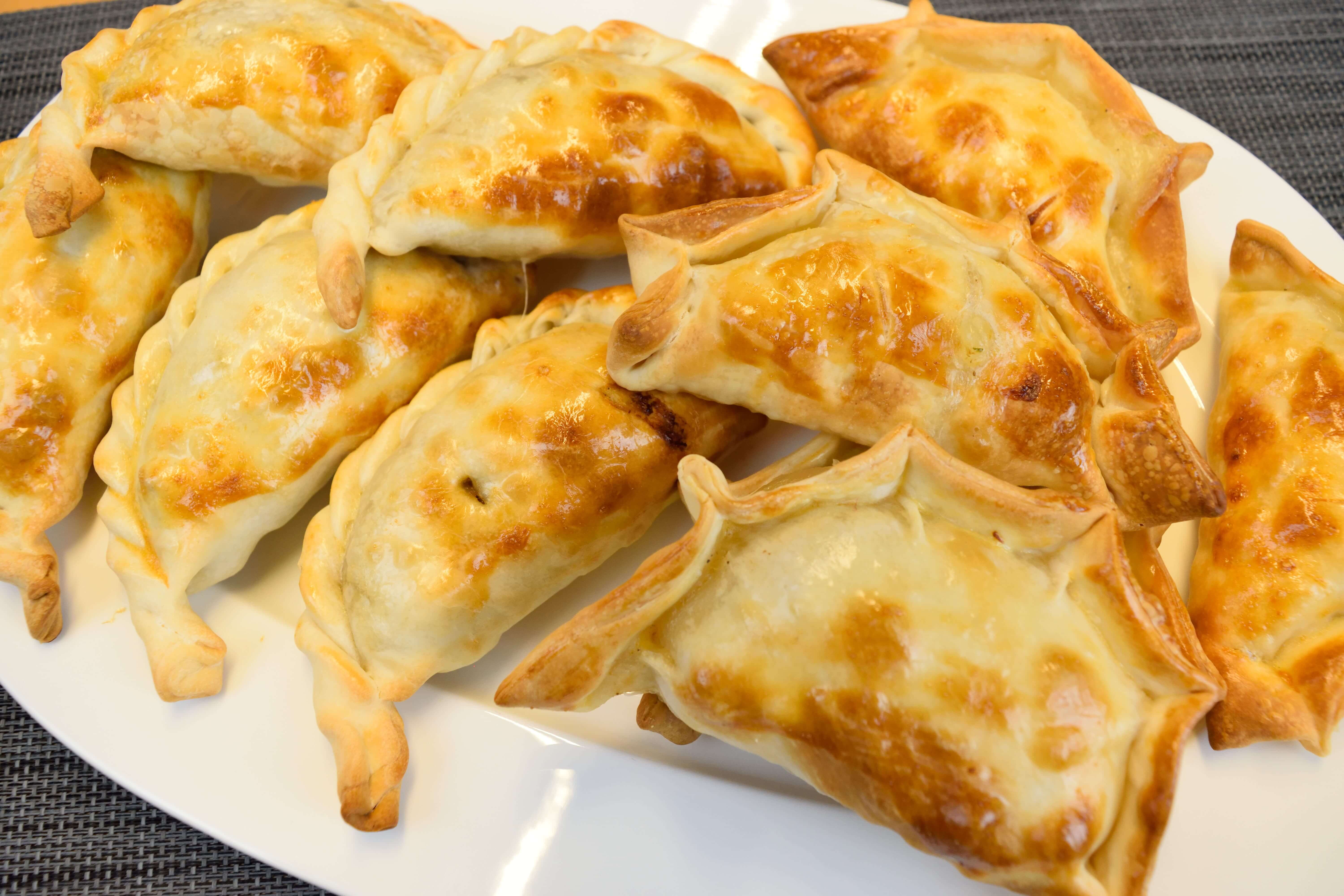 Ingredients
700 g flour
2 tbsp lard
200 ml lukewarm water
1-2 tbsp salt
eggwash
Instructions
1.
Mix the flour and salt in a bowl. Add the melted but cooled off lard and combine with a fork.
2.
Add the water step-by-step and continue to stir with a fork until a clumpy dough forms. Transfer the mixture onto a clean surface and knead lightly until it comes together.
3.
Split the dough into 2 large balls, flatten slightly into the shape of discs. Use immediately, or store in the refrigerator/freezer to use later (1-2 days max).
4.
Roll out the dough onto a thin sheet and cut out round disc shapes for empanadas (use round molds or a small plate with Ø 12-14 cm). You can also make small individual balls with the dough and roll out each individual ball to a round shape (doesn't need to be perfectly round).
5.
Fill the pastry pockets: Heat oven to 200 °C degrees. Take a flat disc and moisten outer edge of each half round with water.
6.
Put about 1 1/2 tablespoons filling in the center of each round. Wrap dough around filling to form empanada, pressing edges together.
7.
Fold the edges and finish by pinching little pleats or crimping with a fork. Place empanadas on parchment-lined or oiled baking sheet, about 2 cm apart.
8.
Brush tops lightly with the eggwash and bake on top shelf of oven until golden, 10 to 15 minutes. Serve warm. Enjoy!
Print
Empanada Fillings (Carne a Cuchillo & Caprese)
Prep Time:
25 Minutes
Total time:
25 Minutes
Servings:
for 15-20 empanadas (each filling))
Ingredients
Carne a Cuchillo (Spicy Beef)
500 g sirloin or rump steak
500 g onions
1 red bell pepper
1 tbsp dried crushed chili
1 tbsp paprika
1 tbsp cumin
2 tbsp fine herbs
1 1/2 tbsp flour
pitted green olives (usually one per empanada)
2 hard boiled eggs
salt and pepper
Caprese (Tomato Mozarrella)
250 g firm mozzarella cheese
2 large tomatoes
handful of fresh basil
salt and pepper
Instructions
1.
Prepare the beef filling: Chop the beef into small thin pieces and also chop the bell pepper, onions and eggs into small pieces. Slice the olives into fine stripes.
2.
Cook the onions and bell pepper over medium heat until soft and opague (do not brown them). Add the meat and the flour and brown it slightly.
3.
Add all condiments and cook until the meat is between medium and well done (or until it is the way you like it). Let it cool off completely and fold in the eggs and olives.
4.
Set aside in the fridge until you fill the dough or overnight to intensify the flavour.
5.
Prepare the veggie filling: Clean the tomatoes and remove seeds. Chop into fairly small pieces together with the cheese. Julienne the basil.
6.
Mix all ingredients in a bowl and add as much salt and pepper as you like. Set aside until you fill the dough (do not let it sit for long otherwise the cheese and the tomatoes will get very juicy).
7.
Use as filling straight away.
Print
Both fillings need some heavy seasoning as they will soak up a lot of the flavour.