Quick & Delicious: Pesto Babka/Pesto Bread
Pesto Bread Recipe
Prep Time:
30 Minutes
Prep Time:
30 Minutes
Total time:
1 Hour
Servings:
6-8 people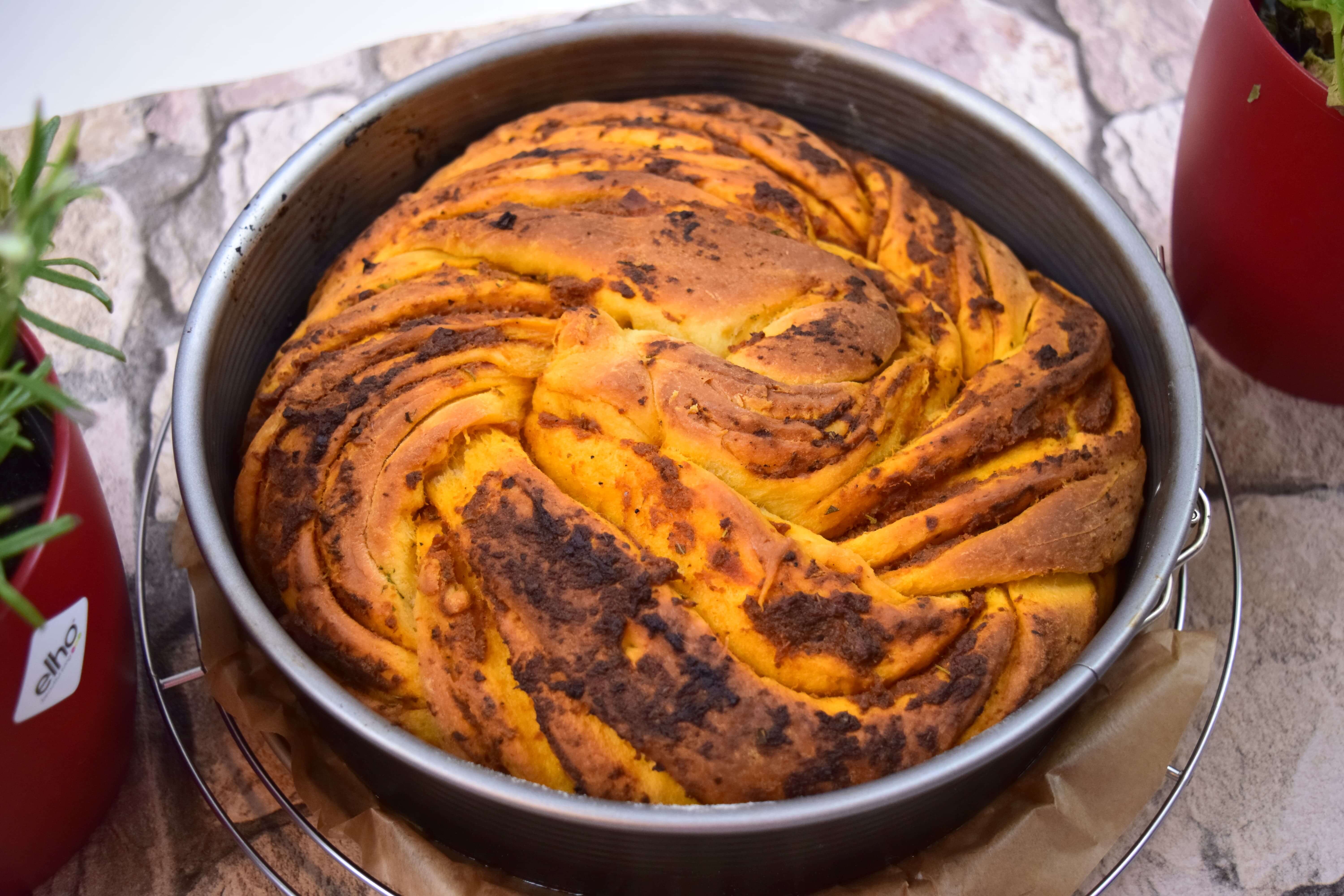 Ingredients
350 g flour
1/2 yeast cube (21 g fresh yeast)
1 tbsp sugar
40 g fleur de sel (sea salt)
3 eggs
100 g butter
100 ml milk
250 g pesto
some fresh rosemary (optional)
Instructions
1.
Heat up the milk and butter in a small pan until the two have merged into one. Mix the crumbled yeast with some of the warm milk mix and stir up until the yeast has dissolved.
2.
Put the flour into a huge bowl and make a well. Add the yeast mix, sugar, salt and the rest of the milk mix.
3.
Pop in the eggs and begin to combine everything with the hand mixer and with the dough hooks attached. The dough might be a little wet so make sure to use enough flour when spreading it onto a surface.
4.
Knead well until it is smooth and elastic and keep adding a little more flour if you feel it needs more texture. This should take about a good 7-10 minutes.
5.
Shape the dough into a ball, wrap it with transparent film and leave it to rise at a warm place for 1 h.
6.
Spread the dough onto a floured surface again and roll it out into a large rectangle. The height of the dough should be about half a cm.
7.
Add the gorgeous pesto on top and leave a gap around the edges of the dough. Sprinkle some freshly cut rosemary on top. Roll the dough up along its long end quite loosely and cut it lengthwise in half with the blank part of the dough pointing towards you.
8.
Twist the cut end facing upwards into a braid. Put the braid into a greased round baking mould and shape it into a snail.
9.
Let it rest for another hour and then bake it for 25-30 minutes at 175 °C. Enjoy!
Print