Köttbullar – Swedish meatballs in creamy sauce
Köttbullar with Pressgurka Recipe
Prep Time:
35 Minutes
Prep Time:
25 Minutes
Total time:
1 Hour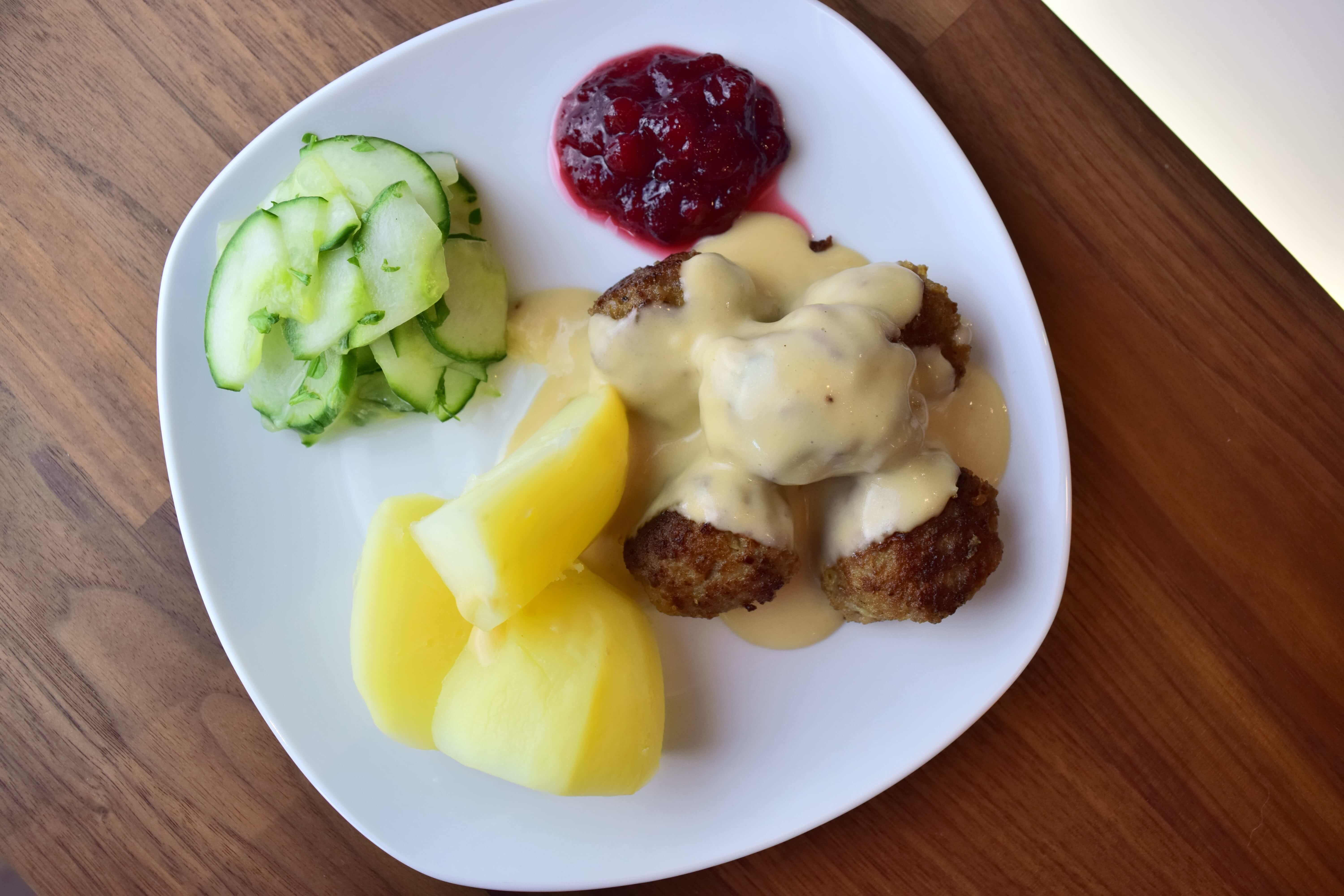 Ingredients
Meatballs
200 g minced pork
300 g minced veal or beef
1 egg
1/2 onion
2 tsp épice riche (2 tsp whole white peppercorns, 8 whole cloves, 1 tsp whole allspice, 2 tsp fresh nutmeg)
90 g breadcrumbs
200 ml cream
1 tbsp mustard
pinch of sugar
some salt and white pepper
Sauce
100 ml cream
400 ml beef broth
1 tsp Chinese soy sauce
white pepper and salt
30 g butter
30 g flour
Pressgurka
1 cucumber
2 tbsp vinegar essence
2 tbsp sugar
100 ml water
white pepper and salt
2 tbsp fresh parsley
Instructions
1.
Pressgurka: Finely slice the cucumber and add 1 tsp of salt and let sit for 30 minutes. Drain the water and mix together vinegar, sugar, salt, pepper and 100 ml of fresh water.
2.
When mixed well, cover the cucumber with the dressing and add the freshly chopped parsley. Let it sit in the fridge until your köttbullar is ready.
3.
For the meatballs, soak the breadcrumbs in the cream for about ten minutes. Then chop up half of an onion into very small pieces and shallow fry them in some butter. Let them cool off and grind the ingredients for the épice riche together.
4.
Mix the veal and pork mince together with the rest of the ingredients and add 2 tsp of the épice riche as well as the breadcrumb-cream mix and the onions. Season to your liking with some additional white pepper and salt.
5.
Heat up some oil in a pan and form little meatballs using a teaspoon for measuring the size. Fry them until golden brown from all sides.*
6.
Make a roux by adding the butter and flour to the pan, add the beef broth when it's well combined. Let simmer for about 10 minutes before adding the rest of the ingredients. Season again with some salt and white pepper.
7.
Let simmer again for 2-3 minutes until it has your desired consistency. Serve the köttbullar with some boiled potatoes or mashed potatoes, some of the pressgurka and some fresh lingonberries or lingonberry jam and drizzle the creamy sauce on top of the meatballs. Enjoy!
Print
*Don't put too many of them in at the same time, rather fry in batches. When the meatballs are done set them aside in a bowl and start making the sauce.